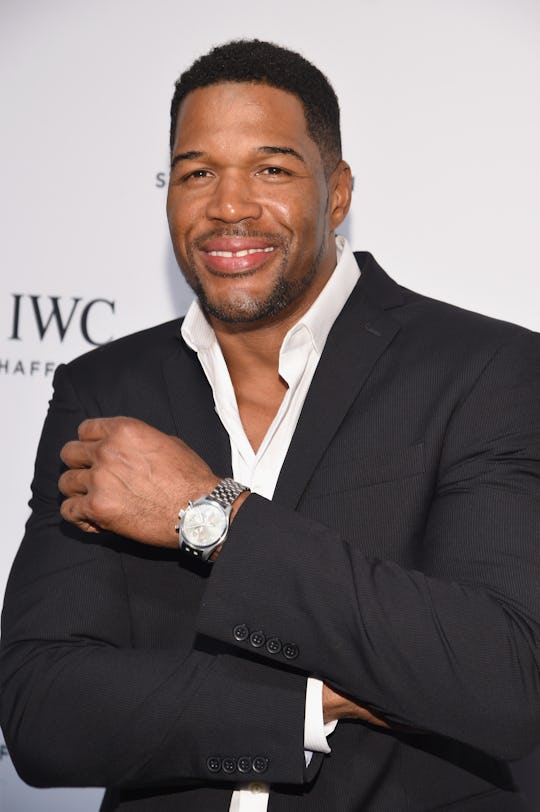 Dimitrios Kambouris/Getty Images Entertainment/Getty Images
When Will Michael Leave 'Live! With Kelly and Michael'? He'll Be Joining 'GMA' Full Time
Fans of Michael Strahan will need to get up a couple of hours earlier every day if they want to enjoy their morning coffee with the retired football player. On Tuesday, it was announced that Kelly Ripa will be looking for a new cohost when Strahan joins Good Morning America as a full-time correspondent. While we don't know exactly when Michael will leave Live! With Kelly and Michael, ABC News president James Goldston issued a statement saying that Strahan will go full time on GMA in September, and The Hollywood Reporter speculated that he'll make his exit during the summer.
Strahan joined Live! in 2012, following the 2011 departure of Ripa's former cohost, Regis Philbin. In 2014, his cohosting duties dropped down to part time as he joined GMA two days a week. Although he's leaving Live! in favor of GMA, ABC News reported that he will continue to cohost NFL on Fox (no word on when, exactly, he plans to sleep). Strahan released the following statement to THR:
I look forward to continuing to work with the incredible team at GMA. It is an exciting opportunity to be able to bring unique stories and voices to the audience. My time with Live With Kelly and Michael has been transformative, and my departure will be bittersweet. Kelly has been an unbelievable partner, and I am so thankful to her and the entire team. I am extremely grateful for the amazing support I've received from all of the fans.
And the fans certainly do love him; ratings for Live! have steadily climbed since Strahan joined the show. Currently, there's nobody set to replace him, so fans can expect to see a revolving door of cohosts seated next to Ripa once Strahan leaves, much like the "tryouts" Live! held after Philbin's exit, which eventually led to Strahan joining the show. It's much too early to speculate who the new cohost might be; who could have predicted that Ripa, a former soap opera actress, would replace Kathie Lee Gifford in 2001, or that Philbin would be replaced by a retired professional athlete... Or that America would fall in love with him?
It's OK, everyone! He's not leaving TV entirely. Just shift around your morning schedule a bit, and he'll still be on your screen every day. And for those whose hearts are breaking because Strahan worked so well with Ripa, they'll only be about a mile apart. Just watch both shows every day, and imagine the pair meeting at a halfway point for brunch after work. Just because they'll no longer be working together doesn't mean they won't be best friends forever, at least in our hearts.