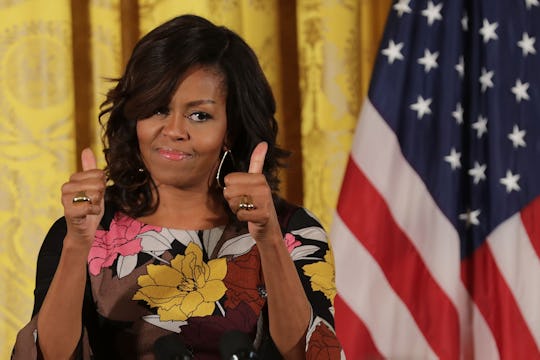 Chip Somodevilla/Getty Images News/Getty Images
Michelle Obama Will Grace The 'MasterChef Jr.' Set
While President Obama and former first lady Michelle Obama continue to enjoy their first vacation post-White House, their presence has been sorely missed by supporters, many of whom are looking for whatever tidbits they can find to stay in the loop with the couple. But although the Obamas are no longer in the White House, they will still be in the public eye, it seems. And it appears that Mrs. Obama will be the first to come return to the scene, starting with an appearance on MasterChef Jr. Those who have missed the Obamas as much as I have will probably want to know: When will Michelle Obama be on MasterChef Jr., and how can I watch?
Mrs. Obama is no stranger to kids and cooking. In 2010, the then-first lady used her platform to launch the Lets Move! campaign, aimed at "rais[ing] a generation of healthier kids." The former FLOTUS used the platform to tackle childhood obesity and to try and improve the health of children by teaching them how to dance, by getting their bodies moving, and by improving school lunches.
During her time as first lady, Mrs. Obama also took the campaign to television; From dancing on Ellen to promoting healthy eating on the game show, Billy On The Street, she was active in her pursuit to keep kids — well, active. Judging by her passion for fitness and healthy eating — and for getting kids and adolescents to follow suit — Mrs. Obama's appearance on this upcoming season of MasterChef Jr., a competitive children's cooking show, is a no-brainer.
According to The Los Angeles Times, this year on MasterChef Jr., a rotation of guest stars will make an appearance on the show — and one of those guest stars will be Michelle Obama, who will sit as a judge alongside the beloved Muppets crew. Although the show is airing after the Obamas left the White House, Michelle was still the first lady at the time of the appearance, according to The Los Angeles Times. But it's unclear when exactly the episode featuring Michelle and the Muppets will air. What we do know is that the new season of MasterChef Jr. which premiered Feb. 9, airs Thursdays at 8 p.m. on FOX. Check your local listings each week to catch the description of each episode and you may be able to catch Mrs. Obama's name sometime soon.
Mrs. Obama may no longer have her platform as first lady to promote healthy eating, but her legacy still stands. She will continue to be known as a champion to get families cooking their own meals and inspire children to get up and move — and her upcoming appearance on MasterChef Jr. falls in line with that awesome legacy.