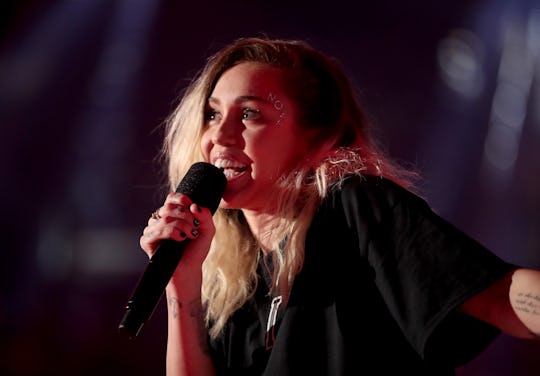 Christopher Polk/Getty Images Entertainment/Getty Images
Miley Cyrus' Dad Claims New Music Is On Its Way
It's been years since she came in like a wrecking ball and nearly a decade since we partied in the U.S.A. So, understandably, you might be wondering when Miley Cyrus will release new music, especially since her dad, musician Billy Ray Cyrus, revealed that something new and exciting is on its way. On Tuesday, the proud papa could not contain his excitement when he teased fans on Twitter with a photo of his 24-year-old daughter donning a new, somewhat unrecognizable, softer look instead the wild fashion choices that fans have become accustomed to.
"Looks like it's time to rock n roll @MileyCyrus #happy Excited to hear more of the new stuff !!!!! Turn it loose!," Cyrus' father tweeted on Tuesday morning, along with a screenshot from a photo shoot of his daughter throwing her long hair back in a light pink dress. It's a much different look than what we've seen in recent years, and from the photos, it looks like she's swapped her short pixie cut for long locks and traded in her leather and neon colors for pastels and chiffon.
While Cyrus' new look may have fans doing a double take, her ever-evolving look is actually no surprise. Glamour once even dubbed her "a fashion chameleon." What eager fans really want to know is when they can listen to her new album.
Unfortunately, a release date appears to be TBA, especially now that Billy Ray Cyrus seems to have deleted his initial tweet. Cyrus' official website still uses the art from her 2015 album, her self-released psychedelic project called Miley Cyrus & Her Dead Petz, for its background. Her new album would be her sixth and marks "four years since the release of her breakthrough album Bangerz," as Teen Vogue reported.
But, even though there isn't an official timeline in the books right now, there still is some good news, because dads just don't get that excited (or blow their daughter's cover) over nothing. Cyrus herself also teased her Instagram followers back in February with a photo of a recording booth covered from top to bottom in bright-colored fluff.
Needless to say, fans certainly appear to be on board with a new album in the near future, although what kind of album this next one might be is still up in the air.
As Billboard reported, Cyrus' music style has jumped from genre to genre over her career; the outlet also noted that "genre-hopping" is not ­uncommon for young artists. That being the case, and given the career trajectory we've seen from Cyrus so far, her next move could be totally revolutionary.
While there is still a lot of mystery surrounding Cyrus' next album, there are also a lot of clues that strongly hint at the idea that the pop star has been hard at work on something new and exciting for her fans. And for that, we can all be grateful.