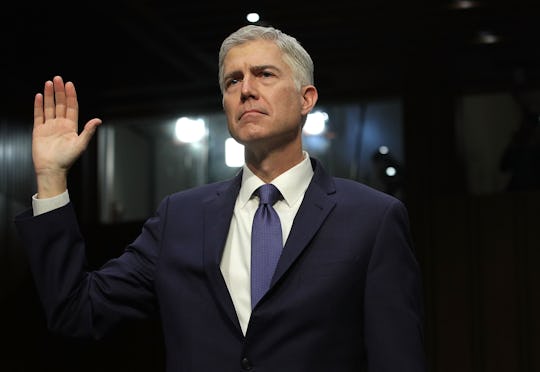 Alex Wong/Getty Images News/Getty Images
Neil Gorsuch Might Be Delayed From Bench For Awhile
Judge Neil Gorsuch, President Donald Trump's SCOTUS pick, is on his final of four days of Senate confirmation hearings on Capitol Hill. The 46-year-old federal appellate judge has faced tough questions as he hopes fill the vacancy left on the SCOTUS bench left by the late Justice Antonin Scalia in February 2016 — but when will Neil Gorsuch take his seat? That question just got a little harder to answer on Thursday thanks to Senate Minority Leader Chuck Schumer telling the Judiciary Committee that he and his party are prepared to filibuster Gorsuch's nomination once it moves to the full Senate.
On Wednesday, Schumer expressed his concerns at how quickly Gorsuch's confirmation process appeared to be moving forward because "this big gray cloud of an FBI investigation hangs over the presidency," as he told the Committee. Schumer was of course referring to the confirmed FBI investigation into alleged collusion between the Trump campaign and Russia. Other Judiciary Committee Dems, such as Vermont's Sen. Patrick Leahy, have noted that it's appalling that President Obama's SCOTUS nominee, Judge Merrick Garland, was never given a Senate confirmation hearing — for the first time in the history of SCOTUS confirmations.
How the Supreme Court confirmation process works is basically five steps. Right now, Gorsuch is at step three on his journey to the SCOTUS bench, but the two most important steps lay ahead: Getting enough votes from the Judiciary Committee, and then from the full Senate.
As the GOP has congressional majority, the filibuster is the Democrats' last stand, which they are prepared to throw down. At Thursday's daily White House press briefing, Press Secretary Sean Spicer said the administration wants Schumer and his party to back down from filibustering Gorsuch. Trump has encouraged Senate Republicans to use the "nuclear option" if Dems filibuster his Supreme Court nominee, where they can vote to change the number of votes required for confirmation, from 60 votes to a simple majority.
Unfortunately for Democrats, the nuclear option comes right out of their own playbook, when they decreased confirmation votes to just a simple majority for Cabinet nominees in 2013 — and now it's come back to bite them. That said, the nuclear option has never been used to confirm a Supreme Court justice.
So what does this mean for Gorsuch? After much Senate rule rigamarole, Gorsuch will likely fill Scalia's seat, and soon — but he probably needs to wait a little longer than he'd hoped before he gets his judge's robes back from the cleaners.