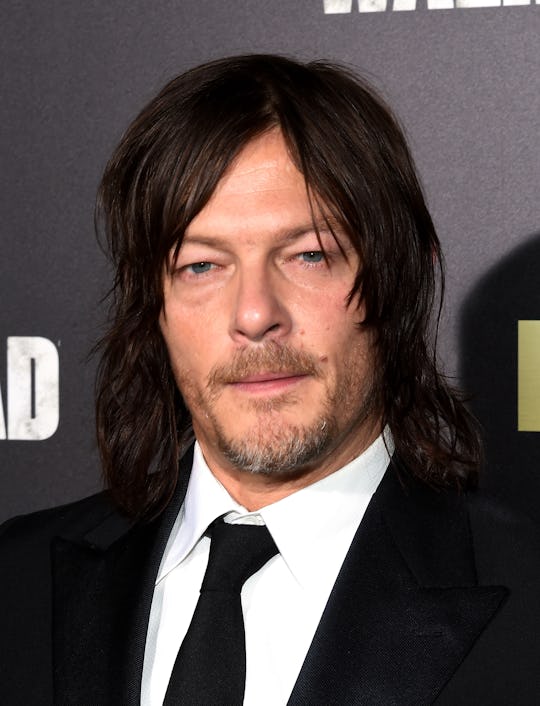 Larry Busacca/Getty Images Entertainment/Getty Images
When Will Norman Reedus' New AMC Show Premiere? 'Walking Dead' Fans Are Having Daryl Withdrawal
Fans of The Walking Dead bid a temporary goodbye to the show on Sunday night, and now face six whole months without Rick, Glenn, Carol, and the gang. Sure, there's Fear the Walking Dead as a placeholder, but it's not the same. And for a certain segment of the population that's more into Daryl Dixon than walkers, it's no substitute at all. But, lucky for Daryl stans, Ride with Norman Reedus premieres on AMC this June. In a statement to Entertainment Weekly, Joel Stillerman, AMC's president of original programming and development said, "We love being the home of people's passion projects, and there is nobody more passionate about motorcycles than Norman Reedus."
The series will feature the motorcycle enthusiast/actor cruising around the country with fellow bikers — some famous, some not — exploring motorcycle culture in a new destination on each of the six one-hour episodes, according to AMC. The series will showcase different types of motorcycles each week, and the rides will take detours to "custom bike shops, tattoo parlors, collector's warehouses, or a roadside smokehouse," so really, there's something for everyone. Reedus spoke to EW back in January, and explained that the episodes aren't shot in quick succession, which allows him to travel far and wide, riding different bikes as the locations call for it. He also teased that his first guest star is "a big one."
And it looks like we may have insight into a few of those guest stars; in February, the Daily Mail caught Reedus hanging around with Lana Del Rey while an AMC camera crew filmed the pair on motorcycles. If that seems like an odd choice, it gets even weirder: the paparazzi got a few good shots of Del Rey's footwear, and for some reason, the singer chose to wear sandals for her motorcycle show debut. Imagine the road rash! Somebody get her some boots, stat.
Speaking to The Hollywood Reporter in March, Reedus revealed two more guests. He'd just finished filming a Florida-set episode with his Boondocks Saints II costar, Peter Fonda, and was about to fly to Texas for a ride with Paul Reubens. Yes, Daryl Dixon and Pee-wee Herman himself, riding motorcycles together. I can't imagine anything more compelling in the reality TV genre than this: "I am flying into Austin, and from there we ride to San Antonio, where hopefully Paul will be waiting for me at the Alamo with a Pee-wee Herman bike so we can ride around." I'm keeping my fingers crossed in hopes that they do the "Tequila" dance together.