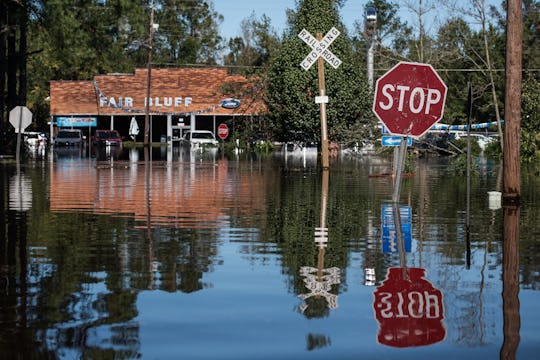 Sean Rayford/Getty Images News/Getty Images
When Will North Carolina Have Power Again? A Full Week Of Electrical Outages Is Expected
Hurricane Matthew has come and gone, but its aftermath will hang around the East Coast for quite some time. Much of North Carolina is still without electricity after the storm, which passed by the state's southern coast as a Category 1 hurricane over the weekend. When will North Carolina have power again? North Carolina was primarily affected by severe river flooding, and as trees uprooted in the saturated soil, they took out power lines with them. More than 5,000 employees from Duke Energy, the state's largest service provider, have been working around the clock to restore service, and have already managed to restore power to more than 600,000 homes. However, their work is far from over, and the flood waters are still on the rise. The Tar River at Greenville is expected to reach close to 25 feet on Thursday, nearly double the official flood level.
At Hurricane Matthew's peak last Sunday morning, there were 684,000 simultaneous outages, making it the fifth worst storm Duke Energy's had to contend with. As of Tuesday afternoon, there are still 211,967 outages, some of which aren't expected to be repaired until Sunday, Oct. 16 at 11:45 p.m., though some customers will see their power restored sooner. Many regions still haven't been assessed for damage, as flood waters are keeping crews from being able to access the area. Duke Energy's interactive outage map has further details, and is accessible by mobile web.
According to NBC News, 14 people in North Carolina have been killed by Hurricane Matthew, with another three missing. The storm also may have factored into a fatal officer-involved shooting in Lumberton on Monday night. A state trooper and two deputies said they were searching for victims in the floodwater when they were confronted by a "hostile" man with a handgun, who the trooper then shot. The details, as well as the identities of the trooper and the victim, have not been made public, but in a news conference on Tuesday, Gov. Pat McCrory seemed to imply that the storm played a role: "Tension can be high when people are going through very, very emotional circumstances," the governor told the press, according to ABC News.
More than 2,000 people had to be rescued from their homes during the storm, and about 4,000 people were evacuated to shelters. The evacuations continue, however, as the flooding is expected to worsen in some areas before the waters recede. Some residents have reportedly refused to evacuate, and McCrory urged them to heed warnings. "We are not messing around, and we don't want to put people at risk to save you. Too many people have died."