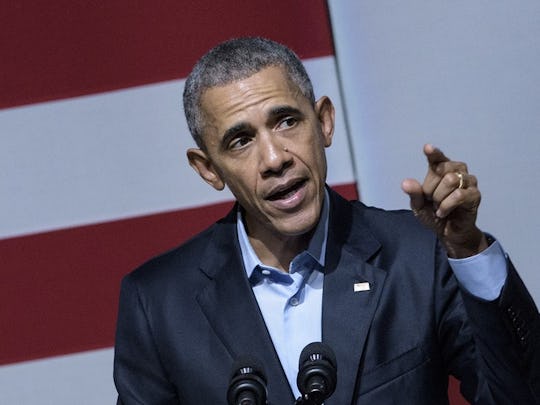 Brendan Smialowski/AFP/Getty Images
When Will Obama Replace Scalia On The Supreme Court? He's Already Spoken To Candidates
Following the sudden and unexpected death of Supreme Court Justice Antonin Scalia on Saturday, the pressure was on President Barack Obama to nominate his replacement. While Republicans were hoping that Obama would leave that task to his successor next year, it's looking like they won't get their wish. So when will Obama replace Scalia? Likely soon, but not too soon. As NPR has reported, the Senate is in recess this week, and while Article II of Constitution does allow the president to appoint a temporary justice while they're gone, the appointment would expire at the end of the Senate's next session. White House spokesman Eric Schultz told NPR that Obama does not plan to take such action, and will wait until the Senate returns.
According to CNN, Obama's legal team wasted no time looking into a replacement, with conference calls beginning on Saturday (the same died that Scalia died) and meetings on Sunday. They do already have some people in mind, such as those who were considered for the last two openings, and those who were being eyed to replace a retiring justice. But those choices were based on the assumption that the retiring justice would be liberal, so they might not be chosen to replace the conservative Scalia. "This is totally different because there haven't been a lot of preparations for filling one of the conservative seats," a former Obama administration official told CNN.
Although the president will nominate a replacement, the Senate still has to confirm his choice, so it's a tricky political game to choose the right person. Senate Republicans could (and very well might) block any choice Obama makes, so his nomination could be more of a statement than anything else. Some Democrats are hopeful that Obama will nominate a "sacrificial lamb," that is, a liberal nominee who would be subsequently blocked by the Republican-led Senate, which would highlight how ridiculous the confirmation process is, and possibly motivate voters to fix it come November.
Another option would be to nominate a moderate who has been confirmed in the past. The thinking behind this idea is that Senate Republicans might balk at a moderate during an election year, and this would shine a light on their flip-flopping. However, sources close to the process told CNN that Obama takes his responsibility very seriously, and would nominate his best choice, rather than use the nomination as an opportunity to play games. Obama is expected to meet with around three final candidates, possibly as early as the end of this week, before making his final choice.