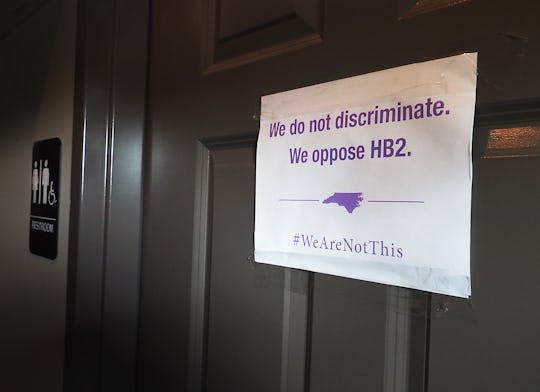 Sara D. Davis/Getty Images News/Getty Images
When Will Obama's Transgender Bathroom Decree Go Into Effect? Schools' Funding Is At Stake
Friday was a landmark day for LGBT activists. In an effort to provide clarity to state governments and protection to LGBT citizens everywhere, the White House announced that President Obama would issue a decree outlining protections due to transgender students under Title IX. The decree has since been issued to school systems and state legislatures, but when will Obama's transgender bathroom decree go into effect?
The "Dear Colleague Letter on Transgender Students," released Friday by the Department of Justice and the Department of Education, is the latest development in a mounting debate about transgender rights. North Carolina's House Bill 2 was the first in a slew of "bathroom bills" that single out transgender people by requiring individuals, including public school students, to use the bathroom that matches the gender they were assigned at birth, rather than their gender identity. Since its passage, controversy, boycotts, and protests have erupted all over the state. In a stunning move of desperation on the part of North Carolina Gov. Pat McCrory, his administration and the Department of Justice sued each other over HB2's constitutionality. The result of those suits remains to be seen.
Perhaps in an effort to speed the process, Obama delivered this decree to schools to protect transgender students' rights, no matter where they live. It seeks to curtail bullying and violence toward transgender students and provide school systems with best practices for being inclusive. In a statement to The New York Times, Secretary of Education John B. King Jr. supported Obama's move to be explicit about the protections due to transgender students. He said,
No student should ever have to go through the experience of feeling unwelcome at school or on a college campus. We must ensure that our young people know that whoever they are or wherever they come from, they have the opportunity to get a great education in an environment free from discrimination, harassment and violence.
The letter made it very clear that it is the responsibility of each school "to ensure nondiscrimination on the basis of sex [and] requires schools to provide transgender students equal access to educational programs and activities even in circumstances in which other students, parents, or community members raise objections or concerns." If a public school is found to be in violation of Title IX, it can lose its federal funding.
The letter goes into quite a bit of detail regarding the purview of Title IX, including school admissions, overnight accommodations, single-sex classes, and more. Overall, it does not weigh in on those activities, but instead focuses on the issue of "bathroom bills." In the letter, the president said, "A school may not require transgender students to use facilities inconsistent with their gender identity or to use individual-user facilities when other students are not required to do so." Already predicting the backlash to this decree, it went on to say, "As is consistently recognized in civil rights cases, the desire to accommodate others' discomfort cannot justify a policy that singles out and disadvantages a particular class of students."
The decree does not stipulate a timeline for complying, but the implication is that schools should consider it effective immediately. Already, leaders in Texas, Arkansas, Alabama, and Kentucky have been vocal in opposing it. While it may seem unrealistic to require schools to change their policies so quickly, for transgender students, the change in policy probably couldn't come fast enough.