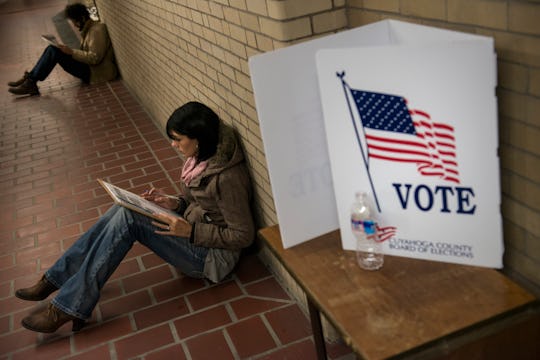 BRENDAN SMIALOWSKI/AFP/Getty Images
When Will Ohio's Election Results Be In? It's One Of The Most Important States This Year
Election Day is almost here. The historic and unprecedented 2016 presidential election is almost over. First, though, Americans have to get to the polls on Nov. 8 to cast their votes. As the votes are counted, all eyes will be on the swing states. Battleground states are critical in elections because no single candidate or party has a leg up in securing that particular state's Electoral College votes. Winning the swing states can make or break a presidential hopeful's candidacy and oftentimes they spend a lot of time, money, and effort campaigning in these states. Ohio is one of the most important of those swing states this year. The outcome of Ohio's votes may strongly indicate whether Trump or Clinton will be the next Commander in Chief. Ohio's election results will most likely be in before the end of the night on Nov. 8, possibly predicting who will win this year's election.
Ohio has been called for the winner of the last two presidential elections. In both 2008 and 2012, Ohio was called for President Barack Obama before the night was out. In November 2008, the state tallied its votes and then-Sen. Obama was called as the winner over Sen. John McCain at 9:23 p.m., according to USElectionAtlas.org. In November 2012, it wasn't until 11:14 p.m. that Obama was declared the winner over former Massachusetts Gov. Mitt Romney in the northeastern state.
Ohio is a battleground state because of its diversity, according to U.S. News & World Report. Ohio's diversity in age, race, religion, and economic standing is able to reflect America as a whole. There are some states, like Texas or New York, that almost always vote one particular way. "When the U.S. is divided politically," the outlet points out, "that division tends to run right through Ohio."
Ohio has been called the bellwether of American politics. While the state went to Barack Obama in the past 2 elections, in 2004, Ohio was called for President George W. Bush. According to The Burlington County Times, no Republican has won the White House without first winning Ohio. In addition, no other state has voted for the winning candidate more often than Ohio, according to the University of Virginia's Center for Politics. The state of Ohio has voted for the winner of 28 out 0f 30 presidential elections dating back to 1896. That's 93 percent accuracy.
Politico reports that a new Monmouth University poll has Clinton with a 2 percentage point lead over Trump in Ohio. She's polling at 44 percent, while Trump is polling at 42 percent. Politico, however, is quick to point out that these numbers are "well within the poll's margin of error of plus or minus 4.9 percentage points." Trump had previously polled better than Clinton in the critical swing state. With Clinton's lead, though, the two candidates are basically neck and neck in the most important battleground state.
Keep your eye on Ohio's results on election night. The results for Ohio will most likely be called before midnight and they may just reveal the next president of the United States.