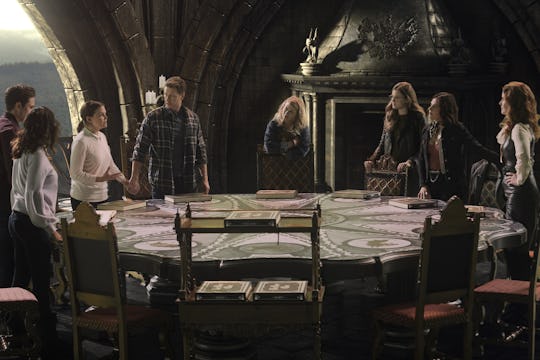 Jack Rowand/ABC
Here's When 'Once Upon A Time's Season 7 Will Finally Be On Netflix
This week, the epic fairytale television series, Once Upon A Time, is coming to an end. After seven magical seasons on the air, fans will get to see all their favorite characters say a final goodbye during the series finale on Friday, May 18. If you have missed an episode here and there, or are just in the mood to re-watch it, you're probably wondering, when will Once Upon A Time Season 7 be on Netflix?
With previous seasons, Once Upon A Time has usually shown up on Netflix sometime during August, with Season 4, Season 5, and Season 6 all dropping on the fourth Friday of the month. While still unconfirmed, if they stick with previous trends, Netflix may release Season 7 sometime around August 24. However, it is important to note that because this is the final season of the series, dates and schedules may be changed around, so you'll need to keep an eye out for exact release dates.
While fans of the show are understandably sad about it ending, there were some indications that the show was winding down when series regulars -- including Jennifer Morrison (who plays Emma Swan), Emilie de Ravin (Belle), Ginnifer Goodwin (Snow White), and Josh Dallas (Prince Charming) -- left the show. While ABC executives were initially optimistic about renewing it for an eighth season, Variety reported that the show's ratings severely declined after the core cast left, forcing Season 7 to be its last.
Luckily, lots of the old cast and characters are slated to return for the series finale. TV Line reported that fan favorites, Ginnifer Goodwin, Jennifer Morrison, and Josh Dallas, will be back for the last episode, along with Emilie de Ravin, Robbie Kay (Peter Pan), JoAnna Garcia-Swisher (Ariel), Sean Maguire (as Robin Hood), Victoria Smurfit (Cruella de Vil), Tony Amendola (Geppetto/Marco), Lee Arenberg (Grumpy/Leroy), and Keegan Tracy (Blue Fairy/Mother Superior). TV Line further noted that show runners Eddy Kitsis and Adam Horowitz are reuniting the characters in hopes to make the finale "the send-off of a lifetime" for their loyal fans.
Not only has the end of the show been hard for the fans to deal with, the show runners are having their own tough goodbyes as well. In an exclusive interview with Entertainment Weekly, Horowitz noted that that he has been feeling "very emotional" and Kitsis added that "it's always hard to say goodbye." In a sincere thank you letter to their fans, the two conveyed how appreciative they were to each and every one of them, stating: "We hope the magic this show brought to your lives never ends... as we know the magic you brought to us certainly won't."
But while Once Upon A Time is coming to its fairy tale ending, there's a tiny possibility that you may see some of it's magic resurface in the future. Deadline mentioned that during a mid-season screening back in February, Kitsis noted that he would not talk about ideas he has for future pitches and is leaving the possibility open-ended, adding: "We'll save it for the reunion when they approach us in two years." So, in a TV landscape that is rebooting everything from Lost in Space to Murphy Brown and Dynasty, it's very possible that a highly-rated, long-running show like Once Upon A Time sees a reboot of sorts in the future.
While you silently pray to the TV gods for a Once Upon A Time spin-off or reboot, you can catch the first six season on Netflix right now, and hopefully binge on Season 7 by the end of the summer. The series finale, "Leaving Storybrook," airs on Friday, May 18 at 8 p.m. EST on ABC.