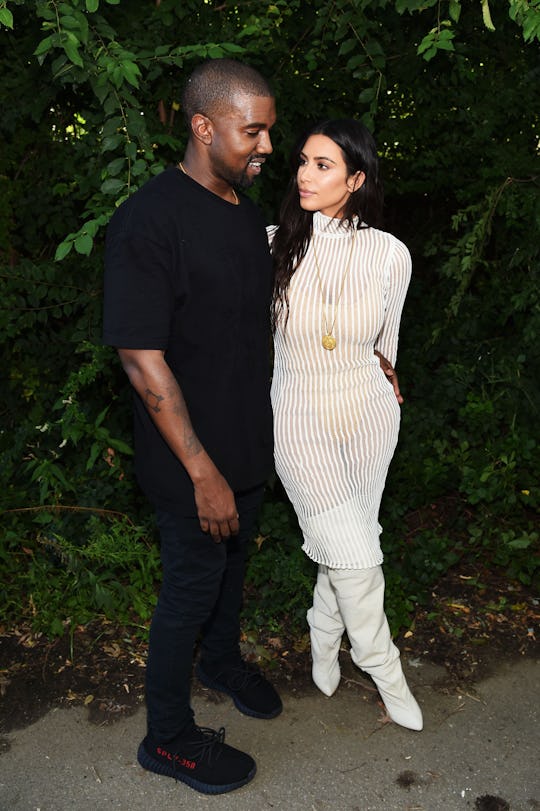 Jamie McCarthy/Getty Images Entertainment/Getty Images
Here's When You *Could* Expect To See Photos Of Kim & Kanye's New Baby Girl
It's official. Kim Kardashian and Kanye West have a new baby girl and fans are so excited for the happy family. Kim took to her website on Tuesday to announce the news with a sweet message, and fans couldn't help but notice that something was missing: a photo of Kim and Kanye's third child. So, when will photos of Kim Kardashian's baby be released and will it be soon? Fans simply cannot wait to meet the latest addition to the ever-growing family, so here's when you can possibly expect to see her.
Well, if we went by the timeline Kardashian used when releasing her other two children's first photos, it may be a couple months before fans get a glimpse of her new little one. Every mom has the right to protect their child and choose what they feel is the right path for them ... even though fans are dying to see Kardashian's baby girl. If Keeping Up With the Kardashians fans had it their way, they'd be in the delivery room.
But considering how Kardashian has revealed photos of her two other children in the past, the wait likely won't be forever. In fact, Kardashian's first child, daughter North West, was born on June 15, 2013 and her first photo was not revealed for two months. At the time, Kardashian's mother Kris Jenner had her own talk show and she allowed Jenner to use her show as the platform for the big reveal. Kanye West appeared as the only guest on the show that day and you can check out a clip of the big moment in the below video.
As for Kardashian's son Saint West, he was born on Dec. 5, 2015 and Kardashian waited just a little longer to show his first photo to the world. In honor of her late father's birthday, Kardashian posted a pic of Saint for the first time on her app and website on Monday, Feb. 22, 2016. The photo was a picture of Saint sound asleep in a white thermal onesie and the words written with the pic said:
Today is my dad's birthday. I know there's nothing more in the world he would have wanted than to meet his grandchildren. So I wanted to share this pic of Saint with you all.
Prior to the full-body shot photo of Saint West, Kardashian had released a pic of Saint's baby fingers holding his big sister North's hand. People reported that this pic was released an estimated one month after Saint's birth.
Kardashian and Kanye West's third child was born at Cedars-Sinai Medical Center, just like their other two children were, according to TMZ. Kardashian's baby girl was born via surrogate at 12:47 a.m. local time on Monday morning and Kardashian is reported to have been front and center in the delivery room. The baby was born at 7 lbs 6 oz. and Kardashian is reported as the first person to give the baby skin-to-skin contact, according to TMZ.
The Kardashian family has been consumed by baby news and rumors for months. Not only are fans waiting anxiously to see a picture of Kardashian's baby, they also cannot wait for her sister Khloe Kardashian to give birth. And, who can forget about Kylie Jenner? Fans have been simply losing it trying to figure out whether or not that pregnancy rumor is true or not. There have even been stories circulating that Jenner is actually Kardashian's surrogate, but these appear to be false.
Prior to the release of the actual photo of Kardashian's first daughter, North West, it was reported that Kardashian sent out fake pics to some people in her social circle as an experiment to see if any of them would leak the photos to the media. So, when you're on the lookout for a new baby pic from the Kardashian family, make sure it's the real deal. Hopefully, Kardashian doesn't try to fake us all out again.
Congrats to Kardashian and West on their new little addition! Enjoy this special moment!
Check out Romper's new video series, Romper's Doula Diaries:
Watch full episodes of Romper's Doula Diaries on Facebook Watch.