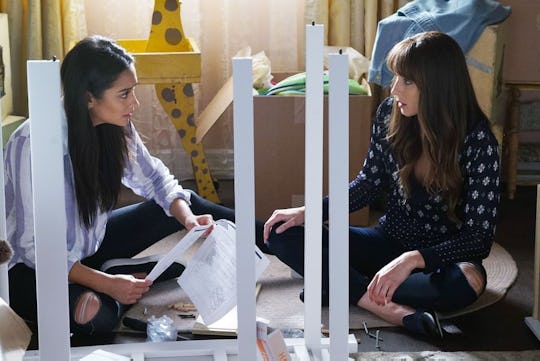 Ron Tom/Freeform
Fans Will Be Able To Watch The Entire 'PLL' Series On Netflix Soon
The end of Pretty Little Liars is here. Whether you're sad to see the murder mystery drama come to an end or happy to finally get all the answers to your burning questions, the series finale truly marks the end of an era. There will be no more theorizing, no more black hoodies and red coats, and no more of our favorite Liars. However, thanks to streaming services like Netflix, that doesn't mean you can't relive all the lies again and again. So when will Pretty Little Liars Season 7 be on Netflix? Thankfully, fans won't have to wait long to relive all the exciting drama.
The first half of the season can already be found on the streaming service right now, so you can start watching that whenever your Rosewood-loving heart desires. Meanwhile, it was just recently confirmed that Pretty Little Liars Season 7B will hit Netflix on July 20. So thankfully it won't be long at all until diehard fans can see the entire series from start to finish, if they so choose. If you missed these final 10 episodes, you'll definitely want to watch them ASAP. All the answers fans have been waiting years for will happen in these final few installments — including the identity of A.D.
Moreover, it's a final goodbye to fans favorites characters, many of whom have grown up along with the Liars. You'll get to say goodbye to Aria, Hanna, Spencer, Emily, and Alison and see where their stories end and what's next for them after their final face-off with A.D. It's a major season that every PLL fan will want to see, even if they stopped watching at some point throughout the series.
And like I said, with all the seasons on Netflix you can binge watch the whole series from beginning to end. Once you know who A.D. is you can go back to Season 1 and start looking for any clues that pointed to the real culprit. You'll probably even see things you didn't notice the first time around and a lot of things you didn't understand before will make total sense now.
With all seven seasons on Netflix you can relive all the drama, murders, romance, and lies as much as you want. If you're all caught up, you can watch the two-hour series finale on Freeform at 8 p.m. ET on Tuesday, June 27. Just make sure to have some tissues nearby; it'll probably be a tearjerker.