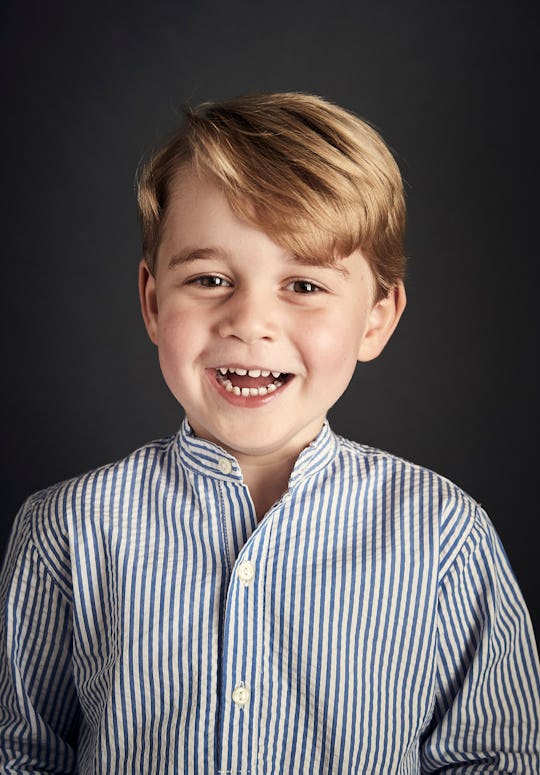 Handout/Getty Images Entertainment/Getty Images
Here's Why Prince George Won't Become King Anytime Soon
British royal succession can be difficult to map. With Queen Elizabeth in the throne for more than 65 years, it is hard to imagine anyone else heading up the monarchy. However, recent reports state that a changing of command may be in order soon. So you may be wondering if Prince George will be ever king. But, as cute as he would look in a little crown, he won't likely be the reigning king for some time, if ever.
Should the Queen choose to abdicate or retire — or, God forbid, pass away — Prince Charles is next in line for the throne, according to The Sun. It looks like he may have the chance sooner rather than later, as word around the palace is that the Queen has told those in her inner circle that she plans to push for legislation that would allow Charles to reign while she is still alive. In fact, royal commentator Robert Jobson told the Daily Mail in August that preparations for such a transition are underway.
Before Prince George would be in line to the throne would be his dad, Prince William, the Duke of Cambridge. People recently reported a long-standing rumor that Prince Charles would be passed over as king for his eldest son, William. However, the outlet clarified that this rumor doesn't hold water.
Even if the Queen did plan to snub her son in this way, she can't just choose her successor willy nilly. As People reported, "The 1701 Act of Settlement is the act of Parliament that determines the succession to the throne, and requires that a monarch's heir must be his or her direct successor (and a Protestant)."
That makes Prince Charles the next king, not Prince William. The Queen would have to appeal to Parliament for a change in the law to allow Prince William to jump the line of succession and it would be a long and messy process.
After Prince William comes his children: first Prince George and then Princess Charlotte and the new baby. However, assuming that both Prince Charles and Prince William will have long reigns like Queen Elizabeth, it will be quite some time before little George would take over ruling the country.
If you're thinking that someone was passed over in line, you're right. Prince Harry was third in line for the throne in 2013, but once Prince William and Kate Middleton started having children, he was pushed back to sixth. If he and Meghan Markle go on to have children, they would come after Prince Harry in the line of succession.
But don't start feeling too bad for Prince Harry just yet — he doesn't seem all that broken up about it. He explained to The Sun that no royal is particularly interested in being the king or queen because of the massive time commitment, but they would do it for "the greater good." "Is there any one of the Royal Family who wants to be king or queen?" he told the publication. "I don't think so, but we will carry out our duties at the right time."
He explained to Newsweek that he and the younger members of the royal family hope to maintain the monarchy, but not to outshine the Queen:
...We won't be trying to fill her boots. We are involved in modernizing the British monarchy. We are not doing this for ourselves but for the greater good of the people. We don't want to dilute the magic. The British public and the whole world need institutions like it.
So, it looks like Prince George has lots of playdates and family time ahead of him before any kingly duties begin getting in the way. Who knows, he may even have his own family by then, with children to even further complicate the royal line of succession.
Check out Romper's new video series, Romper's Doula Diaries:
Watch full episodes of Romper's Doula Diaries on Facebook Watch.