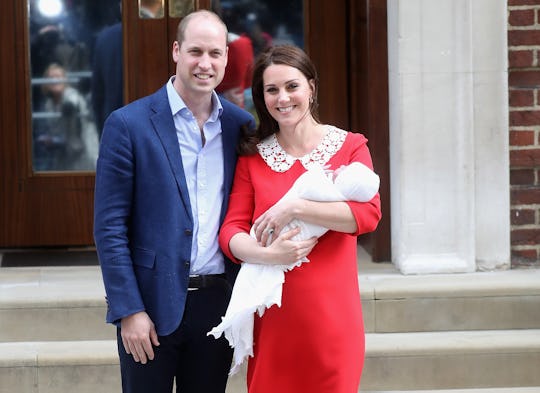 Chris Jackson/Getty Images Entertainment/Getty Images
If History Repeats Itself, Prince Louis May Make An Appearance At These Upcoming Events
Duchess of Cambridge, Kate Middleton and Prince Louis famously made their first public appearance together merely hours after Kate gave birth. But will the newborn himself be expected to make an official debut in the spotlight any time soon? Fans of the royal family everywhere want to know when baby Louis will first go out in public. It's a big deal for any baby, royal or not. And of course people the world over are eager to get a glimpse the youngest prince.
At the very least, it looks like newborn Prince Louis will not attend Meghan Markle and Prince Harry's wedding, according to Romper. Born on April 23, 2018, Prince Louis will not even be a month old on the day of the royal wedding, so he's a bit young to take on the crowd of some 800 wedding attendants. In general, it's best for newborns to avoid any really crowded situations. "In truth a newborn baby could go on a plane or be out in public even the day after they're born. We prefer though, that they not for the first two months because the worry is they're going to get sick," Dr. Robin Jacobson, pediatrician at NYU Langone Pediatric Associates, said in Town & Country. Chances are, Prince Louis will spend the first two months of his life (if not more) far away from such crowded events.
So when will the world get to catch its first glimpse of the young prince, aside from those iconic newborn photos? Chances are, it will be at his baptism. At the age of three months, Prince George was christened by the Archbishop of Canterbury in the Chapel Royal, according to BBC News. Although the event was private, a few photos of the newly baptized baby were released. Likewise, Princess Charlotte was baptized around three months of age at St. Mary Magdalene Church, according to the Telegraph. Official photos were also released from that event. Based on his siblings' experiences, Prince Louis should be ready for a brief bit of publicity in a couple of months with his christening.
For the most part, though, William and Kate are deliberately raising their children out of the public eye, according to the BBC. For the very young princes and princess, appearing at events for the populace are something of a rarity.
As far as his first post-baptism outing, you might keep an eye out for Prince Louis on an upcoming royal tour. Louis's older brother Prince George made his first public appearance at the age of 8 months, joining his parents on a royal tour of Australasia, according to the Telegraph. This was the first time he was out in public since his baptism.
That said, you might look out for Prince Louis at the next Trooping The Colour event aka the Queen's Birthday Parade which will be held on June 8 of this year, according to the official site of the Household Division. He has some serious family history at these. At the age of 13 months, Princess Charlotte made her first public appearance on the balcony of Buckingham Palace for Queen Elizabeth's 90th birthday celebration at the Trooping the Colour parade, according to ET. Princess Charlotte already knew how to wave to the crowd. At the previous year's celebration, Prince George made a memorable public appearance on the balcony of Buckingham Palace in 2015, as noted in the Telegraph. Even his outfit mirrored one that his father, Prince William, wore to the 1984 birthday celebrations, as noted by Kensington Palace. (Hey, when the royal family makes an appearance, it's planned down to the last detail.) Perhaps in June 2018 or 2019, the world will get a similar balcony debut from Prince Louis.
Whatever the case, it will likely be a little while before the youngest prince makes a public appearance. Until then, fans of the royal family can content themselves with the barrage of information released in advance of the big wedding. It's so fun to learn about the ways this family sticks to its many traditions and rules. And in no time at all, Prince Louis will also learn how to conduct himself in public as a member of the royal family — perhaps with a little help from his aunt Meghan and uncle Harry.