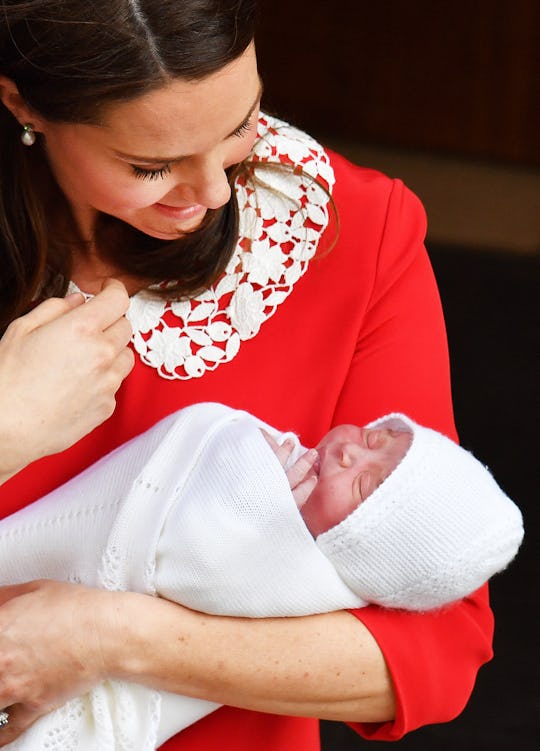 WPA Pool/Getty Images Entertainment/Getty Images
When Will Prince Louis Make His Next Royal Appearance? Very Soon, Hopefully
So the royal wedding of Prince Harry and Meghan Markle is over and done, with no sign of the newest little royal prince, Prince Louis, in attendance. Fans of the British royal family are wondering when Prince Louis will make his next royal appearance, and it sounds like they might not have to wait very long. The Daily Express reported that Prince Louis' christening might be the next big royal event for the family, and obviously, the baby of the hour would have to be present for the occasion.
Prince Louis' christening is when Princess Charlotte is expected to next make a royal appearance, according to The Daily Express. The outlet reported that the Duke and Duchess of Cambridge, Prince George, Princess Charlotte, and Prince Louis himself should all be in attendance, which would be the first time they'd appear as a family of five to an official royal function.
So, when is Prince Louis expected to be christened? No one is really sure yet, aside from the family and, most likely, some Kensington Palace insiders. Prince Louis has not been in the public eye since Kate Middleton stepped out onto the steps of the Lindo Wing with him back in April, but it's been about two months since then. A different Daily Express article reported on Monday that, if his parents follow their usual timeline for baptizing their children, Prince Louis' christening should occur at the end of June or beginning of July.
Prince William and Middleton welcomed Prince Louis on April 23, according to Entertainment Tonight. A statement Kensington Palace released at the time stated:
Her Royal Highness and her child are both doing well. The Queen, The Duke of Edinburgh, The Prince of Wales, The Duchess of Cornwall, Prince Harry and members of both families have been informed and are delighted with the news.
That same day, Middleton and Prince William presented their baby to the press and the world on the steps of the hospital where Prince Louis was born, according to Hello! magazine.
But since then, the littlest prince hasn't made public appearances. In early May, Kensington Palace did release some more photos of the baby prince — one of Princess Charlotte and Prince Louis that Middleton reportedly took on Princess Charlotte's third birthday, and another one Kensington Palace reported was taken by the Duchess of Cambridge at the Palace on April 26, according to Town & Country.
But Prince Louis was not at the Trooping the Colour event, PEOPLE reported. Although Prince George and Princess Charlotte made adorable appearances on the Buckingham Palace balcony, at just about 7 weeks old, PEOPLE reported that Prince Louis was too young to attend the festivities. Instead, he was reportedly in the "trusted care" of someone from Prince William and Middleton's royal staff.
But not to worry, anyone anxiously awaiting the next appearance by the littlest royal likely won't have to be patient much longer. For comparison, The Daily Express reported that Prince George was born on July 22, 2013, and christened about three months later on Oct. 23. But Middleton and Prince William waited only around two months to christen Princess Charlotte after her birth on May 22, 2015.
Kensington Palace hasn't officially confirmed when Prince Louis will be christened, and will most likely make an announcement ahead of time. However, it's been almost two months since he was born. So if his parents stick with their usual schedule of having their kids baptized two to three months after they're born, it's likely that Prince Louis will be christened in the next month or so.
Prince Louis was less than a month old when his uncle, Prince Harry, married his new aunt, but fans of the British royal family were still disappointed that he didn't make an appearance at their wedding. And while there was some anticipation that he might show up at the Trooping the Colour event, that obviously didn't happen, and people who follow the royal family are pretty sure Prince Louis is not going to randomly show up somewhere as part of a public, royal appearance before his christening. There's always a chance, but let's just wait and see what Kensington Palace has to say about it.