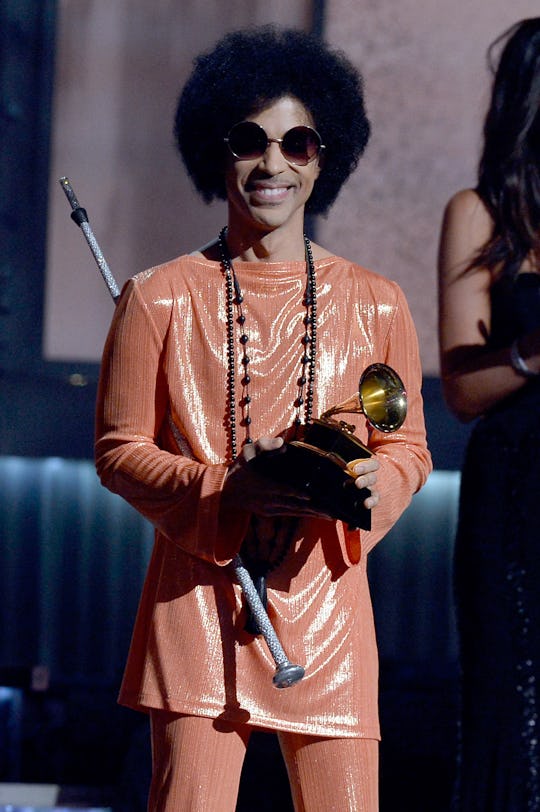 Kevork Djansezian/Getty Images Entertainment/Getty Images
When Will Prince's New Music Come Out? The Artist Had Dozens Of Unreleased Songs
The world collectively cried when it was announced that Prince had died this past Thursday. Over his 35 year career, the musical genius had an incredibly influence on guitar players and pop musicians alike. Currently, his songs are dominating the iTunes Charts, completely taking over the Top 10 Top Songs and almost all of the spots on the Top 10 Top Albums. It is obvious that fans can't get enough of Prince's music and I'm sure they would love more. But when will Prince's new music come out? And will we ever see a posthumous album from Prince?
As it turns out, the enigmatic musician had an even mysterious secret vault of unreleased songs that could be released after his death. Over the course of his career, Prince would go on to release 39 albums, win 7 Grammy Awards, have 40 songs in the Billboard Top 100, win 2 Golden Globes, and have 5 Number 1 Hits. Talk about an amazing career.
Despite having released so many albums and have so many songs, Prince was always recording music, possessing the vault that was comprised of songs he had recorded throughout his career. However, those songs have never seen the light of day.
But will they ever? Well, it depends on who gets the rights to Prince's estate. It will be up to that person to make the decision.
Prince's song catalog belonged to the singer at the time of his death, after a decades long fight with record label, Warner Brothers. Because Prince had no children or wife, it is unclear who will take over his estate, and therefore his music catalog, since he had no next-of-kin. Until that person takes over his estate, we might not hear any of the music in his vault until then.
But what about this mysterious vault? According to CNN, there are thousands of unreleased Prince songs in the vault — a physical, walk-in safe — which is said to be located in the basement of Prince's estate, Paisley Park. And, according to Prince's long-time collaborator, Brent Fischer, over 70% of the music they recorded together was unreleased. That is a pretty huge deal.
According to CNN, in 2012, Prince posted a YouTube video where he promised he would release "everything good in the vault" in 2013. That obviously never happened. However, Prince's former manager and president of his Paisley Park label, Alan Leeds said that one day, in the early 90's, Prince said that "one day he'd just burn everything."
While I'm hoping the executor of his estate does not burn everything in the vault, only time will tell when Prince's new music is released, once the shock of his death settles in. Hopefully, the doors to the vault will be opened soon, as the world is dying to know it's contents.