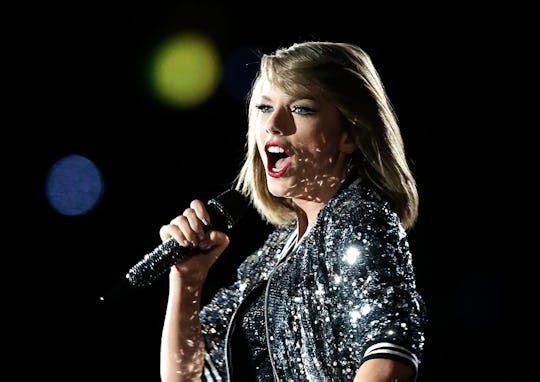 Mark Metcalfe/Getty Images Entertainment/Getty Images
When Will 'Reputation' *Finally* Be On Spotify?
Taylor Swift hyped up the Nov. 10 release of her latest album, Reputation, by preempting it with a steady streaming of singles and even a futuristic music video for "...Ready for It?" Swifties, as they will, went bananas for the latest from Swift, who is not only a pop culture icon but also a savvy businesswoman. Need evidence? Swift has already managed to sell a record amount of albums without releasing Reputation on streaming services such as Apple Music and Spotify. Yes, Swift and her team have somehow compelled hundreds of thousands of people to do the music equivalent of sending a letter via snail mail and purchase a physical or digital copy of her sixth studio album. And then there are the perhaps not-as-devoted fans dying to know when Reputation will be on Spotify.
Swift's sales are impressive enough that, theoretically, she really doesn't need to share her music with the masses on the streaming service that dominates how we consume music. According to Billboard, Reputation sales hit at least 700,000 in the United States alone on the day it was released in retail stores and old-school online stores like iTunes. So, Swift is on track to surpass 1 million copies sold in its very first week, which could make it 2017's best-selling album. Clearly, keeping the album off the likes of Spotify was a decision Swift made strategically.
Another piece of evidence that indicates that Swift has a master plan is that she reportedly plans to keep the album off streaming services for at least a week, as Bloomberg reported last week. So, if Swift sticks to that tentative plan, there's a possibility streamers could see Reputation appearing on their service of choice as soon as Friday. But there's certainly no guarantee that this will be the case, as the streaming service and representatives were still in talks to figure out exactly when Reputation would grace those platforms as of last Tuesday, according to Bloomberg.
Shunning the streaming services — which Swift has criticized in the past, even going as far as to remove her entire body of work from Spotify in 2014 — has obviously paid off for Swift. But the preeminent streaming service's global head of creator services disagrees. "A lot of it is going to be pirated," Troy Carter said of Reputation Monday at the Internet Association's Virtuous Circle Summit, according to Variety. "It kind of sets the industry back a little bit."
In a 2014 Wall Street Journal op-ed, though, Swift laid out her reasoning for withdrawing from Spotify, arguing that music should not be free and that making it so devalues such art:
Music is art, and art is important and rare. Important, rare things are valuable. Valuable things should be paid for. It's my opinion that music should not be free, and my prediction is that individual artists and their labels will someday decide what an album's price point is. I hope they don't underestimate themselves or undervalue their art.
She did, however, ultimately return her music to Spotify in June 2017, and she now even does ads for Apple Music. So, it definitely seems as though Reputation will make its way to those platforms sooner or later — it's just a matter of when.
In the meantime, maybe it wouldn't hurt for those few Swift fans still reluctant to head out to the store and buy a real, physical CD or buy the album online to go ahead and do so. After all, there's something about having new music in your hands and flipping through the little booklet that comes with it that's about as satisfying (if a bit archaic) as it gets.
Check out Romper's new video series, Romper's Doula Diaries:
Watch full episodes of Romper's Doula Diaries on Facebook Watch.