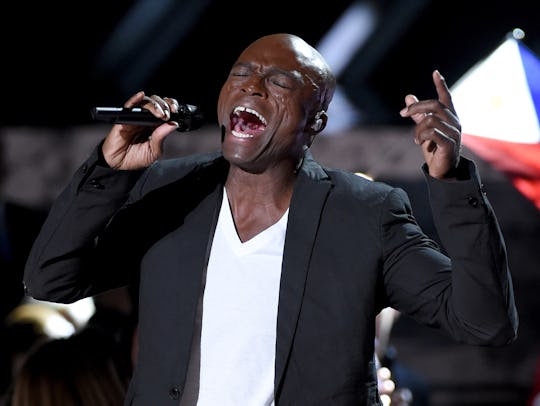 Ethan Miller/Getty Images Entertainment/Getty Images
When Will Seal Release His Next Album? 'The Passion' Star Won't Stop At '7'
There are days when I have to wonder if it'll ever get better than "Kissed By A Rose" for Seal, but then I remember that the singer is still alive, well, and still making music, so maybe it can. His latest album, 7, hit the scene in November of 2015, but after the announcement came that he'd be on The Passion, I had to wonder: when will Seal release his next album? Though it's not uncommon for artists to release new music back-to-back, it is unlikely that they'll release two new albums in less than a year's time. Seal's playing Pontius Pilot in the FOX-approved The Passion, which airs Sunday, March 20 at 8 p.m. EST, but he did just release 7 roughly five months ago, so unless he's got a surplus of music he kept off of 7 and saved for a new album, it's pretty unlikely that he's got another album ready to go after the show airs. However, that doesn't mean that Seal isn't working on his next studio release.
7 was the singer's first album after his high-profile split with his partner Heidi Klum and the beginning of his relationship with Erica Packer. Of the album, Seal said 7 was a celebration of love in all forms, telling Idolator.com:
The album concerns the most sung about, most talked about, and most documented emotion – love. I tried to capture all of the wonderfully different dynamics of love, whether it's the anger, the acceptance, the bliss, the sadness, the elation, or the recklessness. It's this emotion and the ways it makes us feel. It's about the extreme joy and the extreme regret as well as all of the crazy things love makes us do.
Even though Seal hasn't announced plans to begin work on another studio album, 7 marked his ninth album release, which is a huge and impressive accomplishment for any artist, especially one who's so far removed from the pop-culture world. The music industry continues to revolutionize itself — always changing, evolving, and producing an onslaught of new, talented, and young artists almost on the daily — so the fact that Seal is able to stay on top is a complement to his storied career as a performer in its own right. Though reviews on 7 were mixed (The Guardian dubbed his album "back from the '90s with uncertain purpose"), one thing is completely clear: as long as there's an avenue for Seal to pursue, he'll keep making albums for adoring fans. 7 is a mix of all that we've come to know, love and recognize when it comes to Seal: milky notes, his signature smooth voice, and background music that makes spending a lifetime in any waiting room seem not only manageable, but enjoyable.
No matter what your taste for the artist might be, here's hoping that Seal's follow-up to 7 isn't that far off.