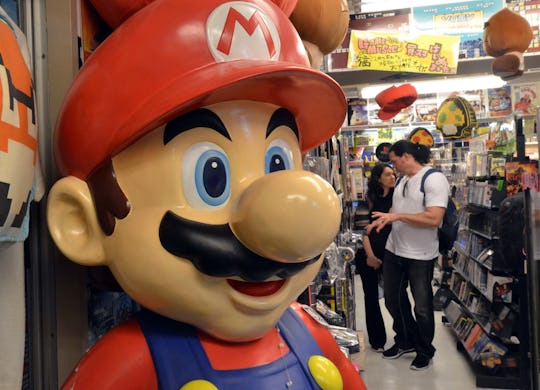 YOSHIKAZU TSUNO/AFP/Getty Images
When Will Super Mario Run Be On The App Store? Fans Are Ready For The Throwback
If you were a fan of Nintendo's Super Mario Bros. games in the 1980s and 1990s then be prepared for some serious video game-nostalgia. At an Apple event on Wednesday, Super Mario Bros. creator Shigeru Miyamoto announced the Nintendo game Super Mario Run will be available exclusively to iOS. So, when will Super Mario Run be on the Apple App Store? Fans certainly need answers... and fast.
According to Gizmodo, Super Mario Run involves a single player mode where users can touch the smartphone screen to navigate their player to jump over obstacles and collect coins. And apparently, there's also a battle mode where users can play against friends and strangers, Gizmodo reported.
Certainly long-time fans of the games, and iOS users, are rejoicing at the news. And apparently, they have a few months to prepare. According to Forbes, Super Mario Run will release December this year. The price has reportedly not been announced yet.
Miyamoto, who also created games The Legend of Zelda, and Donkey Kong, told NPR in a 2013 interview, and through an interpreter, why he thinks the original Super Mario Bros. became such a success. His reasoning was rooted in what he described as an "uniquely human" experience:
I think that Mario became so popular because the actions in the Mario game are something that are innate to humans everywhere. Everyone is afraid of falling from a great height. If there is a gap that you have to cross, everyone is going to try to run to jump across the gap. These are things that are uniquely human and are a shared experience across, really, all people. And I think because of the simplicity of these experiences as well as the interactive nature of controlling the character and seeing the response on the game screen — that's what really resonated with people and made Mario such a popular character.
Super Mario Run will also allow users to play in a third mode, where you can "create your own Mushroom Kingdom," Forbes reported.
The throwback Nintendo game isn't the only news coming out of Apple's event on Wednesday. Apple announced its iPhone 7 and 7 plus will be water and dust resistant, among other developments, Engadget reported.
But the Twitterverse has already latched on to the Super Mario news, and fans are starting to celebrate.
With the recent success of "Pokemon Go," it will be interesting to see if Super Mario Run will produce a similar excitement when it launches. It's certainly been a year of '80s and '90s nostalgia.