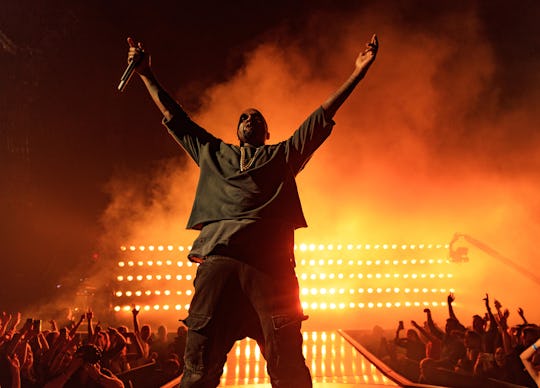 Christopher Polk/Getty
When Will 'Swish' Come Out? Kanye West Just Released The Final Track Listing
He may have kept fans waiting almost three whole years for a full-length follow-up to 2013's Yeezus, but everyone knows you can't rush a self-proclaimed genius. Kanye West announced the track listing for Swish on Twitter Monday, writing that he's "so happy to be finished with the best album of all time" (oh Kanye, always so humble). According to Rolling Stone, the practically-illegible, handwritten list includes 10 tracks, and is a mix of previously-unveiled songs like "Wolves," "Fade," "No More Parties in L.A." and "Real Friends," as well as new songs "Nina Chop," "Father Stretch My Hands," "Waves," "High Lights," "30 Hours" and "FML." Fans might be disappointed to see that other, already-released songs didn't make the cut: neither of the Paul McCartney collaborations "Only One," or "FourFiveSeconds," will be included on West's much-anticipated seventh studio album, nor will "All Day" or "Facts." And, finally, West told fans when Swish will come out, and it's much sooner than many people expected.
According to Entertainment Weekly, West had previously said the first song on Swish would be "Wolves," but based on the track list he tweeted, it looks like it will actually be the last. He also announced last year that the album would be named So Help Me God, before switching to Swish last May. Way to keep us guessing, Yeezy.
So when will be finally be able to get our hands on Swish? According to The Guardian, West's new album will drop on Feb. 11. And to celebrate the lead-up to the release, West has been pre-releasing surprise tracks to his fans as part of G.O.O.D. Fridays — named after West's record label G.O.O.D. Music, Inc., according to The Wall Street Journal. With anticipation high for Swish, chances are good it'll be one of 2016's big successes, although the The Wall Street Journal also noted that it likely won't top 2015's mega-releases: 25 by Adele, and 1989 by — who else? — Taylor Swift.
"Real Friends" can be streamed for free on Soundcloud here:
Image: Christopher Polk/Getty