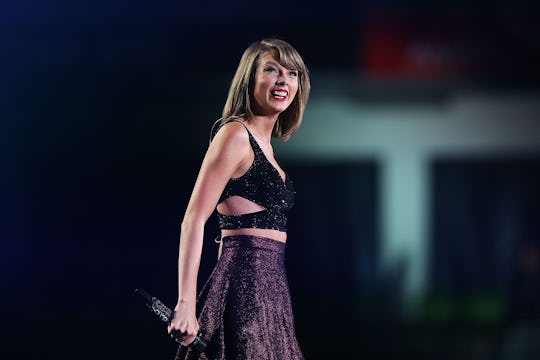 When Will Taylor Swift Go On Tour Next? '1989's World Tour Ends, & We Need To Shake It Off Again Soon
If you were on Instagram at any point in the last few months, it might have felt like Taylor Swift's 1989 world tour would last forever. After all, it seemed every night there was a new slew of photos from the singer-songwriter in front of a different crowd, arms folded around a different member of her infamous squad, be it Cara Delevingne (of course) or Julia Roberts (sure, OK). But, on Saturday in Melbourne, seven months after it kicked off, Swift's 1989 tour ended. As usual, however, you don't recognize a good thing until it's gone. So when will Swift tour again? Because who doesn't need more glitz and glitter in their Instagrams?
The answer to the question might disappoint some fans. Because though Swift has taken a very methodical approach to her career in recent years — admitting to planning "my career a year or two in advance," as she told People — she herself has no idea what her next step is. Which means not only do we not know when she will next release music, or what to expect from that music, but, also, when she will be performing it. In fact, the only thing we do know? That we may barely see Swift at all in the coming months.
As the singer told NME in October:
I think I should take some time off. People might need a break from me. I'm going to hang out with friends. Write new music. Maybe not write new music. I don't know.
Okay, that last sentence sounds scary to fans of the pop star, right? Though there's no reason to fret that Swift will be giving up music — after all, she spoke (albeit, very broadly) to MTV about her plans for whatever album follows up 1989 earlier this year.
I'm not making the next record yet. That's going to take a lot of thinking about what that should be, because with 1989 — I love this album so much that I think it would be doing a real disservice to this album to try to copy it the next time around. I think it's going to have to be something very, very different creatively.
And, considering just how successful the 1989 tour was — grossing over $170 million as of October — it would behoove Ms. Swift to go on the road once again following the release of that upcoming album, whenever we do see it in our iTunes. But for now, as Swift told People, she's going to "let the story write itself now for awhile."
But there is some silver lining for fans. Though Swift said goodbye to 1989 on her Instagram on Saturday — posting a touching photo with her non-famous squad of dancers and labeling the tour a an "incredible adventure" — her hugely successful year will lead us to see the singer at the Grammys on Feb. 15, when she'll be up for seven awards. And considering the huge success of 1989, fans can cross their fingers for another, final live performance, even if the Grammys hasn't chosen final performers yet.
Because do you really think Swift would wait that long to let us Shake It Off again?
Image: Graham Denholm/Getty