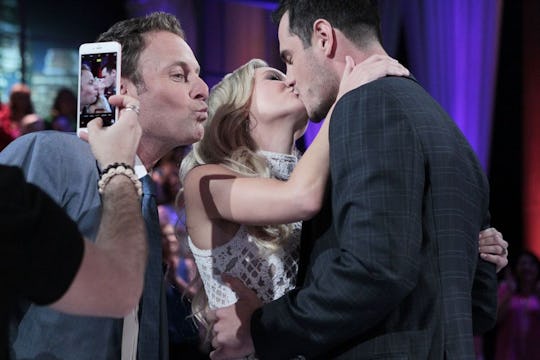 Rick Rowell/ABC
When Will The 2017 'Bachelor' Premiere? There's A Long Wait
JoJo's time as The Bachelorette will be over before you know it – with only four guys left to choose from, the moment of truth is drawing closer. It's been a crazy journey over the last few months as fans watched JoJo dither over just which guy would be the one for her. There was a seemingly endless amount of crying, a lot of strange but hilarious dates (kissing on top of a relaxed horse, for example), some surprise send-offs (bye, James Taylor!) and, of course, the gift that keeps on giving: Chad. It was a rollercoaster journey that will hopefully end in JoJo finding her true love, or someone true love adjacent. The finale airs August 1, leaving fans with a void in their lives until the next Bachelor takes the spotlight. But when will The Bachelor premiere?
Generally, the start of every new season follows a pattern. The last four seasons of The Bachelor have premiered in early January, which makes it a pretty safe bet that the next season will have a similar premiere date. It may feel like a long wait from August to January, but have no fear, Bachelor fans – there's always Bachelor in Paradise to soothe that impatience.
The debate also rages on about just who will take that leading man spot in Season 21 of The Bachelor. It's bound to be one of the guys from JoJo's season, but who? There are a number of fascinating possibilities (and three more potentially heartbroken guys to choose from by the time JoJo's season ends) but unfortunately it might be too soon to tell just who the next guy will be.
Luke Pell is a popular choice, particularly if JoJo follows through on the decision she almost made in Monday's episode. Though the hometown dates were a success and their chemistry was great, JoJo still felt she wasn't getting enough from Luke and decided to cut him loose. But right before she could begin the ceremony, Luke took her aside to confess his love. It might be the perfect last-ditch gesture to keep him in the game, but it could also be too little too late. If Luke ends up eliminated, he'd be pretty perfect as the next Bachelor: he's kind, romantic, and well liked by fans, plus he has a good offscreen story as a veteran turned country music singer. His last minute love confession also positions him well for the future, setting up a heartbreak that could be soothed by twenty-five ladies vying for his attention.
If you're the betting kind, you have five months of waiting to figure out who that next Bachelor will be.