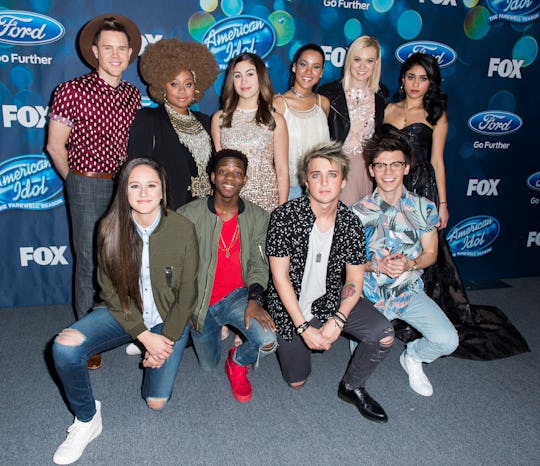 Emma McIntyre/Getty Images Entertainment/Getty Images
When Will The American Idol Winner's Album Come Out? Past Seasons Give Us A Clue
As fans know too well, American Idol will close its doors this year. April 5 will mark the final finale for the long-running reality TV show, and since it's the last season finale ever, it's going to be quite a spectacle. In fact, it's not even one finale; it's a three-part extended ending that will air April 5, 6, and 7. So, until then fans will not know who the winner is, but they can predict when the American Idol winner's album will come out. Why? Because it's all happened before.
The final competition between current contestants will come on finale night two, April 6, and it's sure to be as dramatic, cameo-filled, and tearjerking as they come. After that emotional rollercoaster, viewers will get a brief reprieve from the tension, but not from the suspense. On April 7, the winner — the final winner — will be announced. Most likely, they'll released an album shortly thereafter. If they follow in the original idol's footsteps, it may, of course take a bit longer than expected. Kelly Clarkson won the show's first season way back in 2002, and though her debut album was supposed to come out November of that year, it got pushed back several times because of scheduling issues and trouble finding songs that suited Clarkson. It was not released until April 2003, but when it was, it sold millions of copies. So, perhaps waiting isn't a bad thing!
Carrie Underwood is another superstar made "super" by winning American Idol. The country singer took home the crown in 2005, and in November of that year she released her debut album, Some Hearts. Unlike Clarkson, Underwood was able to turn out the album quickly, and it worked. She had platinum-level sales all over the world. Whether it's some Idol algorithm, or just a franchise tradition, it seems that November is that magical month. That said, some Idol winners have faded from the public eye, despite their debut albums' successes. Taylor Hicks and David Cook, for example, have not been topping the charts in the same way, since winning their respective seasons in 2006 and 2008.
Whether MacKenzie Bourg, Trent Harmon, Dalton Rapattoni, or La'Porsha Renae wins the final season, one thing is nearly certain: By December 2016, the winner's album will be out on the proverbial shelves, racking up global sales. Now it's just a matter of choosing which person will be the next star.