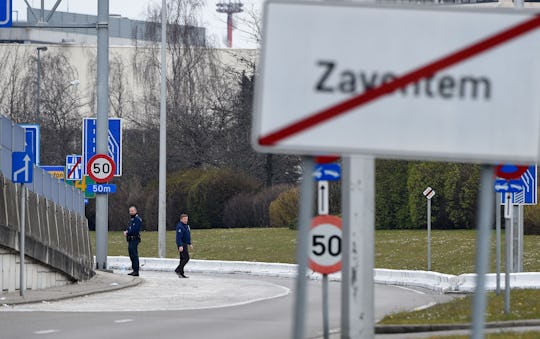 PATRIK STOLLARZ/AFP/Getty Images
When Will The Brussels Airport Reopen? It's Impossible To Say
Early Tuesday morning, three explosions occurred throughout the country of Belgium, leaving at least 34 people dead and more than 170 others injured. The first two explosions occurred at Brussels' Zaventem Airport, while the third took place at a subway station near the suburb of Maelbeek. The attacks, which ISIS recently claimed responsibility for, forced Belgium into a lockdown state, preventing people from leaving and entering the country. For those hoping to leave the terror-stricken city, the main question is when will the Brussels Airport reopen. Unfortunately, that info has yet to be released.
Initially following the airport attacks, which occurred at roughly 8 a.m. local time, the Brussels Airport released several tweets notifying people that all airport operations have be suspended until further notice and encouraging them to stay away from the airport. Once the initial chaos calmed down, the airport released a statement on its website confirming that all Tuesday flights to and from Brussels were cancelled. The Guardian reported that, in a statement to the press, Brussels Airport chief executive Arnaud Feist confirmed all Tuesday flights would be cancelled.
On behalf of the entire airport community, I would like to extend our warmest condolences to the family and friends of the victims of these cowardly and heinous acts. I would like to extend a heartfelt thank you to the emergency and rescue services, passengers and staff for their compassion, solidarity and help. This is without doubt the blackest day in the history of Brussels Airport.
In effort to ease panic, and possibly minimize incoming call, Brussels Airport also set up a system so friends and family could check on loved ones who were in the airport and its surrounding areas at the time of the attack.
Though Brussels Airport has yet to announce when it will resume service, it will likely be sometime before normal operations resume. As NBC News reported, Brussels is currently on lockdown, preventing people form entering or exiting the country. The outlet also reported that U.S. airlines have suspended flights to the city until further notices. Echoing the initial thoughts, NBC News Correspondent Tom Costello said he couldn't imagine the Brussels airport opening for at least a week.
And he may not be too far off. The Brussels Airlines informed passengers via their website that those, "holding a ticket for a Lufthansa Group flight (Brussels Airlines, Lufthansa, Swiss, Austrian Airlines and Germanwings) between today and 28 March to/from/via Brussels can rebook or refund their ticket for free." Though this information was geared towards a specific travel company, it gives the impression that Brussels Airport should resume regular operations by March 28.
Even so, it will be some time before true normalcy resumes at the Brussels Airport. It is important that people in Belgium and around the world continue to support those affected by the attacks.