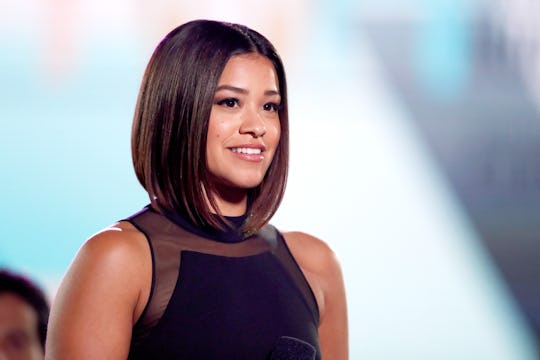 Rich Polk/Getty Images Entertainment/Getty Images
A 'Carmen Sandiego' Animated Series Is Coming In 2019
Another beloved property from our childhood is getting rebooted, and now the question on everybody's lips is, when will the Carmen Sandiego animated series come out? Netflix has confirmed the latest addition to the educational franchise, and Gina Rodriguez of The CW's Jane the Virgin is set to star, but it looks like fans will have to be patient; according to Variety, the first 20 episodes of the series won't premiere until 2019.
The Tracking Board broke the story of Rodriguez's casting on Friday, and Rodriguez herself dropped a Twitter hint on Sunday, and on Tuesday, the news was officially confirmed by multiple sources. Finn Wolfhard, who plays Mike on Stranger Things, will voice Carmen's accomplice, Player.
The franchise began as a series of computer games aimed at teaching children about geography, culture, and history. Players assumed the role of a detective tasked with tracking down Carmen Sandiego, the leader of an international crime syndicate, V.I.L.E., as she stole famous landmarks around the world. Later versions were published for home video game consoles, and today, the game is available as an app. The franchise also spawned two separate book series and a comic book series, as well as several home board games.
The first time fans saw Carmen on TV was on the 1991 PBS game show Where in the World Is Carmen Sandiego? The show pitted middle schoolers against each other and tasked them with answering geography questions in order to "locate" and "arrest" Carmen. The prize was a free trip anywhere in the continental United States. The show ran for five seasons, and will forever be remembered by viewers for its very, very corny house band, Rockapella. A 1996 spin-off called Where in Time Is Carmen Sandiego? lasted only one season. It followed the same basic premise, only it added a time machine and ditched Rockapella.
The most recent TV iteration of the franchise was Where on Earth Is Carmen Sandiego?, an animated Fox series that ran from 1994 to 1999. The show followed teenage ACME detectives Zack and Ivy on their quest to apprehend the elusive criminal mastermind. Variety reported that the new animated series will show glimpses into Carmen's past, and possibly offer clues that could explain why she became a thief to begin with. I personally don't remember questioning her motivation as a kid, but adding an element of intrigue for the adult viewers is a good way to cover all the bases. Fans have two years to brush up on their geography before watching.