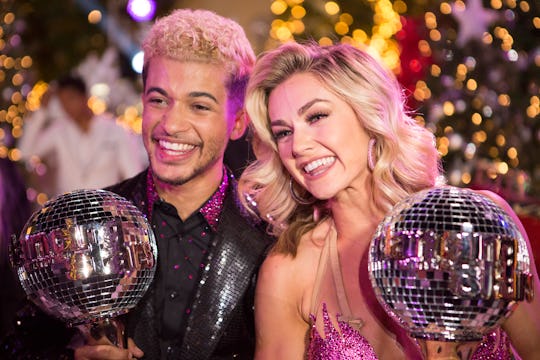 Adam Rose/ABC
Here's When You Can Expect The 'Dancing With The Stars' Season 26 Cast To Be Announced
Back in November, it was announced that the spring season of Dancing with the Stars would be a special, shorter season, featuring only athletes as the stars. So naturally now, on the heels of the Winter Olympics, everyone wants to know when will the Dancing with the Stars Season 26 cast be announced? The Olympics introduced America and the world with several seasons' worth of fun public figures to obsess over and root for as they learn to foxtrot.
Unfortunately for those eager for any news of the new season, ABC will probably not announce the official cast for at least a few more weeks. The show is predicted to premiere on April 30 and last for just four weeks, likely wrapping up on May 21, just in time for the premiere of Becca Kufrin's season of The Bachelorette (another television event I'm eager to see get started). Generally the cast of Dancing with the Stars isn't announced until a week or so before the season actually begins. That means that the world may not know which athletes will be dancing for the coveted Mirror Ball trophy until the second or third week in April. This is undeniably tragic, but at least the suspense won't last forever.
For Season 25 of Dancing with the Stars, the show premiered on September 18, and the cast was revealed only about a week beforehand on Good Morning America. However, based on an interview with casting director Deena Katz on 11 Alive, it looks like the official announcement will be on April 9, giving everyone a few weeks to get hyped about the upcoming season. For die-hard fans like myself, I am already pumped because I fully anticipate that the season will include some of the Olympic athletes I fell deeply in love with in February. In fact, I've already started speculating.
I will be extremely disappointed if I do not see figure skater Mirai Nagasu on the lineup in April both because she has stolen my heart and because she basically already announced that she is down for the show. After her free skate, which many considered disappointing (she didn't manage to land her historic triple axel a second time), Nagasu kept smiling. She stated after the competition, as reported by Vulture, "I thought of this as my audition for Dancing With the Stars." She added that she'd always wanted to be on the show because she wanted to be a star. Some people didn't like her comment but girl, I am here for it.
Another Olympic figure skater that I (and I'm pretty sure everyone) would love to see dominate the ballroom is Adam Rippon. Rippon may not have taken home the gold medal for skating in PyeongChang, but he definitely got the gold medal for charm, telling reporters that he was skating to make his country and Reese Witherspoon proud. He explained on Twitter that the only difference between being an openly gay athlete and being a straight athlete was that he had better eyebrows. And he attributed his success at the ancient age of 28 to "witchcraft." I love him.
Figure skaters generally dominate on Dancing with the Stars for the obvious reason that figure skating uses a lot of the same skills and discipline of ballroom dancing but with the added challenge of doing it on ice. So if my two favorites were to join the ballroom, it would probably come down to Rippon and Nagasu. But there are some other athletes from the Olympics that I would love to see, including Chloe Kim, who famously tweeted about ice cream while competing. Relatable.
Basically, this could be the best season of Dancing with the Stars ever. And I am so jazzed.
Check out Romper's new video series, Romper's Doula Diaries:
Watch full episodes of Romper's Doula Diaries on Facebook Watch.