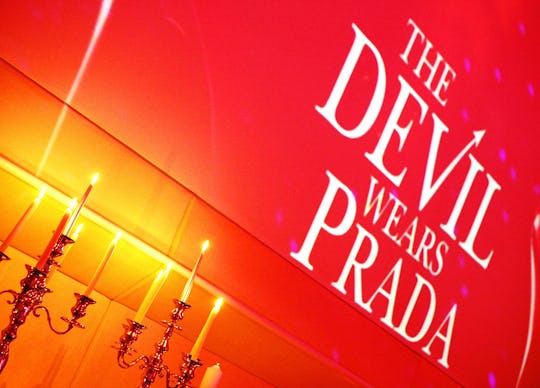 Claire Greenway/Getty Images Entertainment/Getty Images
Get Ready For 'The Devil Wears Prada' On Broadway
From a novel to the big screen to, soon, some of the most illustrious stages on the world, The Devil Wears Prada is both a cultural phenomenon and and commercial tour de force. The iconic film starring Anne Hathaway and Meryl Streep first dominated box offices in 2006, but bigwig executives were bidding on the rights to produce it as a screenplay before the 2003 novel by Lauren Weisberger even debuted. And now that it's confirmed that the film will be resurrected for the theater, fans are definitely anxious to know when The Devil Wears Prada will premiere on Broadway. What we know for sure is that pop legend Elton John and preeminent playwright Paul Rudnick are teaming up to write the musical, so it will definitely be worth the wait — however long that ultimately is.
While producer Kevin McCollum has been working on the project for two years, there's no casting or production timeline in place for it yet (at least not one that's available to the public). If the talent in the cast matches the talent at the helm of remaking the first two iterations of The Devil Wears Prada, it's sure to sell out night after night, though. John, who also worked on the Broadway version of The Lion King, will compose the music, while Rudnick — who contributes to The New Yorker — will be responsible for the screenplay and lyrics, according to Entertainment Weekly.
"Reimagining The Devil Wears Prada for the musical theater is super exciting," John said in a statement, according to The Hollywood Reporter. "I'm a huge fan of both the book and the feature film and a huge aficionado of the fashion world. I can't wait to sink my musical teeth into this hunk of popular culture."
The movie raked in about $325 million when it hit theaters, earning a breathtaking profit considering its much smaller budget of $41 million. The Associated Press reported that it's based on the real-life experiences of the novel's author interning for Vogue editor Anna Wintour. But Hathaway and Streep, both delivering masterful performances, claimed the characters as dowdy fashion magazine intern and her uncompromising, cold, and glamorous editor-boss as their very own.
It's great news that Broadway will soon welcome a The Devil Wears Prada remake, because chances are that there won't be a silver screen sequel to the film even though there is a second book. "I'd love to make a movie with all the people again that's something totally different," Streep told Variety around the time of the film's tenth birthday. "But I think that one might have just hit the right note. It's good to leave it as it is."
That's a big challenge to the Broadway remake. And all signs so far point to a musical success to rival even Streep's jaw-dropping performance.