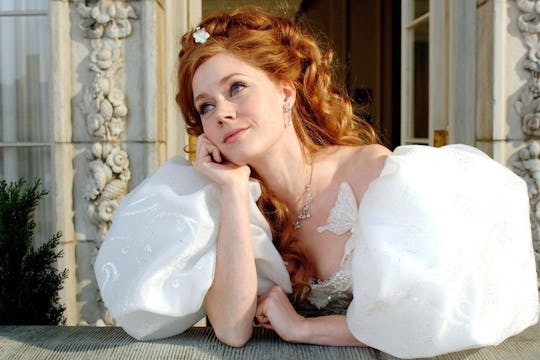 Walt Disney Pictures
When Will The 'Enchanted' Sequel Come Out? Not For A Few Years, Unfortunately
Pretty much from the moment Enchanted landed in theaters in 2007, fans have been anxiously awaiting news of when the next movie would be released. It seemed like a surefire franchise – in the days before non-animated Disney adaptations had become all the rage, stereotypical Disney heroine Giselle's story was the original live action fairy tale. Audiences fell hard for Amy Adams' quirky and charming princess-to-be and her unlikely love story with Patrick Dempsey's single father divorce lawyer Robert. Finally, we've gotten word that a second movie is actually happening – but when will the Enchanted sequel come out?
The development of this movie has been kind of a mess, so we're not quite sure when this sequel is set to debut – and the studio isn't making any release date promises quite yet. According to reports, Disney is hoping to start filming in summer 2017 (with Adams set to return), meaning that we would likely see the film's release in 2018 or possibly 2019 – if everything remains on schedule, that it.
After the first film was a tremendous box office success (earning over $340 million at box offices worldwide), the production company was obviously eager to get a sequel on track. As early as 2010, Disney was actively developing the sequel and reportedly angling to get it in theaters as early as 2011, with Anne Fletcher (director of The Proposal) attached to direct and with hopes that the original stars (including Adams and Dempsey) would be on board. Unfortunately, the sequel then languished in development hell for several years, though the film's stars (like James Marsden) were keen to step back into the semi-animated world of the story.
As of July 2014, the sequel seemed to be back on track, with Disney officially hiring writers to pen the script, nearly seven years after the original film debuted. By last September, the sequel even had an official working title – Disenchanted. But now, we've gotten some seriously amazing news – Disney has officially entered negotiations to hire a director, Adam Shankman, who previously directed Hairspray and Rock of Ages. Clearly, Shankman knows what he's doing with musical movies.
According to The Hollywood Reporter, the sequel is set a decade after the events of the original:
"Sources say Disenchanted is set 10 years after the first movie, with Giselle finding herself questioning her happily ever after, and accidentally triggering events that make everyone's lives turn upside down in both the real world and in the animated kingdom of Andalasia."
It's no real wonder that the sequel has taken so long to get off the ground. Enchanted catapulted Amy Adams to stardom with her first major, commercial breakout role. She's starred in a slew of hugely successful, award-winning films since then and has won several Golden Globes and Academy Award nominations of her own. Regardless, it's amazing that a sequel seems to *actually* be happening (finally!), and that the studio waited until the stars aligned rather than just haphazardly throwing together an unsatisfying sequel for a quick cash grab.