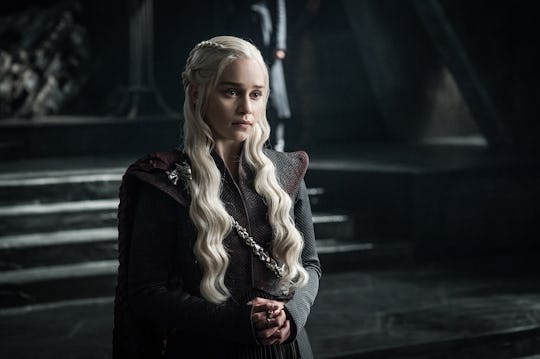 Helen Sloan/HBO
You May Have To Wait A While To See Footage From 'Game Of Thrones' Season 8
The final season of Game of Thrones won't be gracing your television screens until April 2019, making the wait for its last few episodes feel like an impossibly long one. Fans are understandably eager for new content that might give them a hint about what's going to happen in the upcoming episodes, but HBO has been playing it cool. They dropped a teaser with footage from past seasons, but when will the Game of Thrones Season 8 trailer be released?
The teaser was released in early November, so a full trailer can't be far behind. However, the season premiere is still more than five months away, and HBO is going to have to keep the excitement going for that entire time. They can't release everything right away, especially if they want to keep any and all spoilers on lock. A release date for the Season 8 trailer hasn't been announced, so fans can only guess, but it might be a while. The wait between the sixth and seventh seasons wasn't quite as long as the wait between the seventh and eighth, but the Season 7 trailer was still released much closer to the premiere date. "Dragonstone" premiered on Jul. 16 and the Season 7 trailer dropped in late May.
If the network follows the same pattern for the final season, then the trailer might not make its appearance until two months or so before Season 8 begins. That means the trailer could be released in the early months of 2019, giving fans something to focus on as the days tick down to the last six episodes. Of course, without official confirmation from HBO, that's all speculation. The exact date of Season 8's debut still hasn't been revealed, so it seems like they're playing this one pretty close to the vest.
Some fans on Reddit theorized about when the trailer would be released, and they landed on one pretty convincing possibility. User mugenhunt wrote, "I suspect it will air in the Super Bowl, which means February 2019 [sic]." Super Bowl LIII is scheduled for Feb. 3, 2019, according to Cosmopolitan. That makes sense based on what HBO has done in the past, since it would be just a couple of months before Season 8 begins. The Super Bowl is also a major event watched by millions, so highly-anticipated trailers and big commercials have been released during its runtime before. It's just a theory, but it does seem like a fairly safe bet.
You may have to wait until 2019 to receive a proper, full-length trailer, but you might be able to get a glimpse or two of some Season 8 footage before then. Den of Geek spotted a previously-unseen hug between Jon Snow and Sansa Stark in an HBO sizzle reel, so there is a chance that tiny snippets of scenes might appear in the network's other commercials and promotional materials. It might not be a lot, but it's something to keep fans interested as the first episode of Game of Thrones Season 8 inches ever nearer.