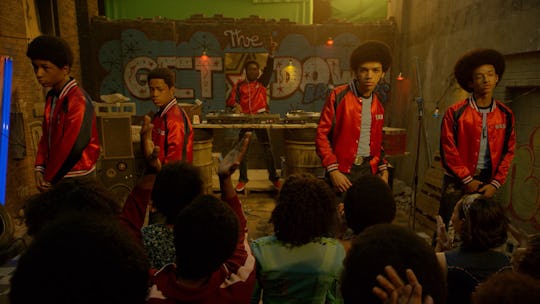 Netflix
When Will 'The Get Down' Soundtrack Be Available On Spotify? Fans Want To Listen
Baz Luhrman's epic hip hop musical drama, set in The Bronx during the 1970s, got its premiere on Netflix on Friday, August 12th, and while only the first half of the season dropped on the first day, a 24-song soundtrack was released on the same day. The Get Down's soundtrack was part of a pretty big Apple Music deal with Netflix, which guaranteed them exclusive rights to the album, as well as Volumes 1 and 2 of the Stranger Things soundtrack — Netflix's other big release this summer. So when will The Get Down Soundtrack be available on Spotify? Bad news, friends: Netflix has yet to announce when the album will become available on other streaming services.
The official soundtrack includes music from executive producer Nas, the cast (including Jayden Smith), as well as original tracks from Miguel, Christina Aguilera, Zayn, Michael Kiwanuka, Leon Bridges, Raury, Grandmaster Flash, Malay, Nile Rodgers, and Janelle Monáe. It's a seriously impressive lineup from an ambitious period musical. Of course, the soundtrack only has 24 songs on it, and the first six episodes contain snippets of some 67 other tracks. The good news — for Spotify listeners, anyway — is that Time has painstakingly collected every single song from every single episode (not counting the original music from the official soundtrack), and rounded up almost all of them (61 to be exact) in this one, comprehensive Spotify playlist.
While the official soundtrack is sure to be heavy on Zeke's rhymes, Shao's beats, and the music of Grandmaster Flash in general, the episodes themselves are heavy on iconic disco songs and the music of Motown. Since so much of the show (and hip hop itself) crawls out of that moment in musical history — often times framing it as stale and played out, like when Zeke shows up to Grandmaster Flash's party in disco duds and gets booed off the stage before his redemptive moment — it makes sense that the episodes are steeped in the music of Aretha Franklin, The Temptations, Stevie Wonder, and The Jackson 5. For now, though, it seems like fans will have to cough up for an Apple Music subscription if they want a taste of the show's original songs.