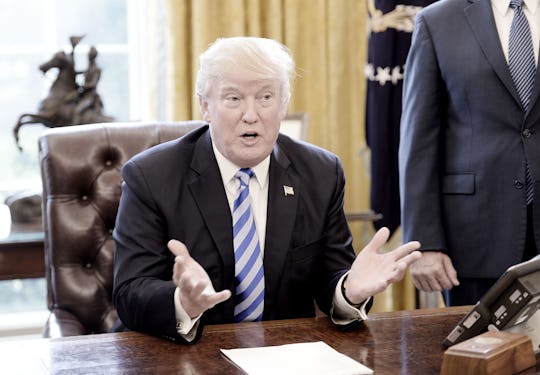 Pool/Getty Images News/Getty Images
GOP's Concerning Health Care Revision Might Take A While
Many health care fans breathed a sigh of relief last month when House Republicans failed to push through a bill that would have, according to official estimates, left millions more Americans without insurance by repealing the Affordable Care Act — or "Obamacare," as it's commonly known. But now, some in the GOP are working on a new version of the American Health Care Act, meaning the battle could begin all over again. When will the GOP's revised healthcare plan be revealed? Right now, lawmakers are scrambling, but advance reporting on the potential changes shows that parents in particular have plenty to worry about.
The new bill, which is being developed much more closely with members of the ultra-conservative House Freedom Caucus (who were at least in part responsible for killing the bill last time), would likely allow states to opt out of certain mandates from the Affordable Care Act. Most notably, insurers would no longer have to cover Essential Health Benefits, like prenatal and newborn care, meaning that expectant and new parents could have to pay for all those costs out of pocket. And, as any parent knows, that stuff gets expensive — fast.
On top of that, the new bill would likely allow insurance companies to charge those with pre-existing conditions more than healthy people for their plans. Guess what has previously been considered a pre-existing condition? Pregnancy. Healthcare plans for pregnant women could potentially become so expensive that it wouldn't make sense for those women to buy insurance. And that's not good news for moms or dads.
What is potentially good news for parents? It looks as if this revised healthcare plan will have a tough journey getting passed. According to NPR, certain members of the GOP hope to bring the revised bill up for a vote in May, but Rep. Steve Womack, R-Ark., at least, was not optimistic, saying,
I did not get the message from our conference this morning that we're nearing the finish on health care. It's obvious those negotiations continue to take place — and there might be some movement in some areas that give leadership some hope we can get closer to the finish line — but I'm not suggesting at all that we are right there and this thing could change on a dime.
And even if members of the House Freedom Caucus decide to support the new plan once it is revealed, more moderate Republicans may take issue with some of the rollbacks. The general American public enjoys not being discriminated against for pre-existing conditions, and unsurprisingly, voters have not been shy about telling their representatives as much.
Being a parent is hard. Here's hoping that a new healthcare plan doesn't make it even harder, whenever it makes its debut.