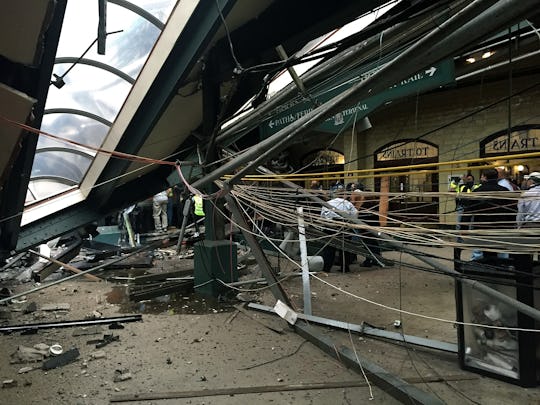 Pancho Bernasconi/Getty Images News/Getty Images
When Will The Hoboken Station Reopen? It's Sooner Than You Think
A commuter train crashed into Hoboken Terminal on Thursday, killing at least one person and injuring more than 100 others. The accident occurred at 8:45am during the height of rush hour commuter traffic. The train was traveling at a high speed when it crashed through barriers at the end of the track and lifted onto the busy platform. An extreme amount of damage was done to the building's infrastructure, and the near 30,000 people who depend on the busy train station to get to work were left wondering when Hoboken Terminal would reopen. Thankfully, it's sooner than you might think, but it won't be fully functional again for a while.
Despite being stopped by the wall of the terminal, at the time of the crash, the train had already left a vast amount of destruction in its wake. Hoboken Terminal is one of the busiest train stations in the New York City area; New Jersey Transit (NJT) cites it as one of its most used stations with 15,000 people boarding trains there each weekday. It's also a popular stop for the PATH Train, which sees more than 28,000 riders use the Hoboken stop on weekdays. People who frequent Hoboken Terminal are obviously shaken by the incident, but anybody living in the New York Metropolitan area will tell you that even in the wake of tragedy, life must go on.
In the wake of the crash on Thursday morning, all New Jersey Transit and PATH trains traveling in and out of Hoboken Terminal were indefinitely suspended. The 7 NJT train lines effected by the crash — New Jersey Coast Line, Morris and Essex County Lines, Main and Bergen Lines, Montclair-Boonton Line, and Pascack Valley Line — will have their tickets and passes cross honored by NJT buses and many private carriers while Hoboken Terminal remains closed. The Hoboken stop on the PATH train suspended all activity following and the New York Waterway ferry will cross honor rail tickets and passes as well.
The PATH train will reopen service going from 33rd street and World Trade Center in Manhattan to Hoboken Terminal around 3 p.m. on Thursday. All activity leaving Hoboken Terminal will still be suspended until further notice. While service in and out of Hoboken Terminal makes commuting difficult for many, there are still ways to get home. If you need to get to Hoboken from Manhattan, the PATH instructs riders to take the train to the Journal Square stop in Jersey City and then transfer to NJT bus 87. NJT buses will accept riders PATH tickets.
New Jersey Transit has also released a detailed plan on its website describing how riders will be accommodated on their commute home. NJT will be temporarily expanding its bus service, as well as adjusting its regular train schedules to ensure commuters get where they need to go. If your daily commute has been affected by this horrible crash, keep your eye on NJT's website and Twitter account. Officials will regularly update each to keep NJT riders in the loop of any new adjustments made.
It's still unknown when Hoboken Terminal will be fully operational again. The investigation into the incident is ongoing and the damage done to the building is substantial. It's certainly inconvenient to have one of the busiest transportation hubs in the NYC area out of service, but NJT and PATH are doing everything they can to accommodate commuters.