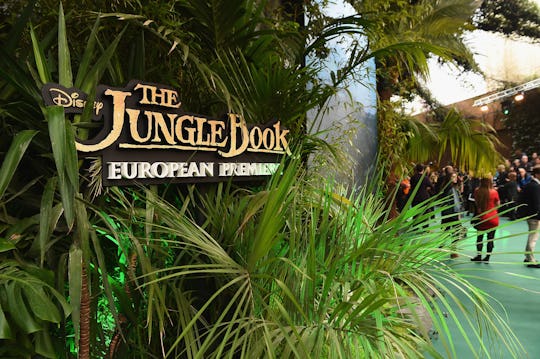 Ian Gavan/Getty Images Entertainment/Getty Images
When Will 'The Jungle Book' Sequel Premiere? There Could Be A Bit Of A Wait
The live action and CGI interpretation of the classic Disney animated film, The Jungle Book, is only a few weeks into its big screen run — but that hasn't stopped fans and critics alike from obsessing over the film and demanding a sequel. Well, it looks like there's good news for those fans this week: Disney just announced that The Jungle Book will, indeed have a sequel. But perhaps the more pressing question should be, when will The Jungle Book sequel premiere? You better hold on to your bare necessities because there might be a bit of a wait before it debuts.
On Monday, Variety reported that Disney had announced a handful of films currently in development by the studio as well as release dates for five unidentified movies; In other words, there's no way to tell which movie matches which premiere date. Therefore, The Jungle Book's sequel could belong to any of those dates.
Sounds confusing, I know. But at least there's some exciting news to go around: In that same announcement, Disney stated that fans could expect to see live action films based on a myriad of classic fairytales — films done in the style of Angelina Jolie's Maleficent, for example — in July 2017, April 2018, and December 2019. While The Jungle Book doesn't necessarily classify as a fairytale, don't worry. Disney also announced that two other untitled films — not necessarily fairytales — which will be released in August and December 2018.
Looks like no matter what happens, it will be at least a year or more before we get anymore Jungle Book 2 action. That's not entirely unexpected — just look at how long it took to make the first Jungle Book into a live action film: Deadline first announced that screenwriter Justin Marks would adapt the animated film and Rudyard Kipling classic for modern movie screens in July 2013. Then, Deadline reported that Jon Favreau was in negotiations to direct the film in November 2013.
Almost two and a half years later, we finally got The Jungle Book, which has a 94 percent fresh rating on movie critic website, Rotten Tomatoes, proving that the long wait was definitely worth it.
There's been other excellent Jungle Book news floating around of late: The Hollywood Reporter claimed recently that both Marks and Favreau were in negotiations to return to their roles as screenwriter and director, respectively, for the sequel. This news came just before the film premiered in theaters everywhere and before Disney officially announced that there would be an official sequel to the film.
While it will undoubtedly take some time for the next Jungle Book movie to hit theaters, fans can rest assured that the wait will definitely be worth it — especially if the sequel is anything like the stunning live action film that is still currently in theaters.