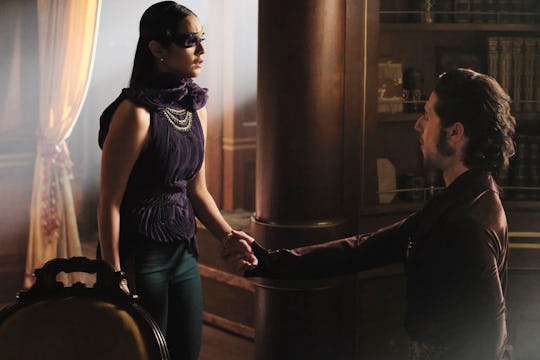 Eike Schroter/Syfy
Don't Expect To Find 'The Magicians' Season 3 On Netflix In The Near Future
The third season of The Magicians is coming to an end and although fans are already guaranteed a fourth season, many viewers don't want this installment to come to an end. Thankfully, you can go back to the beginning and watch the first two seasons of the popular series on Netflix once the third season is done. But when will The Magicians Season 3 be on Netflix?
Unfortunately, no official date has been given just yet, but seeing as how the first two seasons didn't appear on Netflix until 30 days before the following season, it stands to reason that fans will have quite a wait ahead of them before being able to marathon Season 3 on the streaming platform. The fourth season of The Magicians isn't due out until next year, so Season 3 probably won't be on Netflix until late this year or early 2019. If that's too long of a wait for you, you can find the full episodes from this season on Syfy.com, but you will need a TV provider log in to watch.
Another alternative is to purchase a season pass for Season 3 from either iTunes or Amazon Prime Video for $29.99. Although that may seem like a lot, it actually comes out to less than $2.50 per episode, so if you really want to rewatch this season — or watch it for the first time — it's definitely worth the cost. A DVD and Blu-ray of this season will also be available for $25 and $29.96, respectively, however there is no release date on those right now.
No matter how you get your hands on Season 3, it's definitely worth a watch. The magical series, which is based on the best-selling series of the same name by Lev Grossman, continues to push the boundaries and conventions of what a magical fantasy series looks like. Focusing on characters that are in their 20s, the series follows a group of students as they learn to hone their craft at a magic school called Brakebills. They've since gone on to discover the world of Fillory and are currently in the midst of a very important quest to bring magic back.
Fans have watched as Quentin (Jason Ralph), Eliot (Hale Appleman), Margo (Summer Bishil), Penny (Arjun Gupta), and the rest of the characters have learned how to use (and misuse) their magic over the past few seasons, growing and developing into more and more complex characters with each season. The show has also been helmed for its diverse cast and its edgy storylines that leave you on the edge of your seat.
The characters have had to literally face manifestations of their depressions and grapple with love and loss in equal measure, while also trying to save the world. In this season, especially, the group has had to face some of their greatest struggles yet, beginning with trying to get their magic back at the start of the season. Over the course of the season the characters have faced a number of other trials, like trying to heal Penny and dealing with political tensions in Fillory.
There's still a lot going on in the world of The Magicians right now and it'll be interesting to see how this season comes to a close. Will there be an epic cliffhanger? Probably. But at least fans can rest easy knowing answers will definitely come in Season 4.
The Magicians Season 3 finale airs on Wednesday, April 4 at 9 p.m. EST.
Check out Romper's new video series, Romper's Doula Diaries:
Watch full episodes of Romper's Doula Diaries on Facebook Watch.