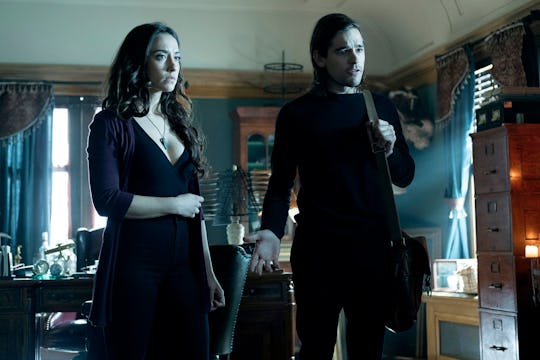 Eike Schroter/Syfy
'The Magicians' Season 3 Premiere May Be A Ways Away
It's always sad to see another season of your favorite show come to a close, which is what a lot of fans of Syfy's magical series The Magicians are currently feeling now that the Season 2 finale is upon us. Thankfully, we already know that the series has been picked up for another season, but when will The Magicians Season 3 premiere? As of now, no official premiere date has been released, though, I have a feeling fans may have quite the wait ahead of them, considering the renewal only just happened earlier this month.
The fate of the show was left unclear throughout the majority of the second season, with both fans (and probably the actors themselves) eagerly awaiting news of the network ordering another installment. And now that it's happened, work can finally begin, however, I doubt anything was able to really get accomplished before that time, meaning production for Season 3 is still in the early stages. Not to mention that Syfy ordered a full 13 episodes, meaning there's a lot that will need to be covered. Taking all of that into consideration, I would predict that the third season of The Magicians will end up debuting sometime in January 2018.
Granted, this is still just a guess on my part, so there's no way to know if it's correct until the network makes an official announcement (which probably won't be for some time). However, if you look back at past seasons, the prediction has some merit. Season 1 came out in December, while Season 2 started airing in January of this year, so it would make sense for Season 3 to follow a similiar pattern. Either way, there's definitely some waiting in our near future, which unfortunately no magic spell can fix.
In the meantime, though, viewers still have the upcoming finale to look forward to, which is bound to leave us with yet another jaw-dropping cliffhanger and set up another Fillory-centric adventure. Plus, there are still so many questions left to answer: What's next for Alice now that she's no longer a niffin? Is Reynard really gone for good? Will Eliot and Quentin be able to conquer Fillory? And what about that ominous tidbit that Sylvia told Penny about before she died regarding a big upcoming event that leaves everyone's life books in the library full of blank pages. That can't be good.
There is so much left to unpack before Season 2 comes to a close, but it's comforting to know that however this all ends up playing out, at least there will be more Fillory adventures in our future.