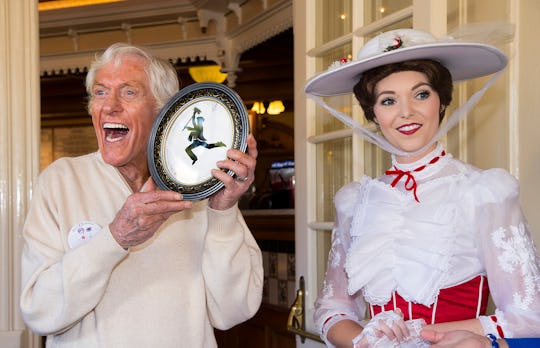 Handout/Getty Images Entertainment/Getty Images
When Will The 'Mary Poppins' Sequel Come Out? It Could Be A While
Ever since Disney first hinted at a Mary Poppins remake last year, fans of the original film have, understandably, had only one questions on their minds: When will the Mary Poppins sequel come out? Now, it seems their dreams have come true. Variety reported this week that Disney had claimed release dates for five upcoming live-action films, and the Mary Poppins sequel is on the roster.
Unfortunately, it's not entirely clear which of the five dates is reserved for the beloved British nanny. According to Variety, "the studio has staked out release dates, but did not say which product would be reserved for which slot." The five dates are spread out in 2017, 2018, and 2019.
Other Disney films that are contenders for these dates include a Jungle Book sequel, a Maleficent sequel, a 101 Dalmatians spin-off, an adaption of the children's book A Wrinkle in Time, as well as a live-action Dumbo remake, according to Variety. If that seems like an awful lot of Disney sequels, it's not your imagination — remaking animated classics is becoming the new Marvel-like craze. Film writer Dirk Libbey at CinemaBlend observed that by the time the Poppins sequel comes out, audiences might be so annoyed with Disney reboots that if they "aren't jumping off theater balconies by then it will be because they already died in their seats." (Ouch.) That's a bit harsh, of course, since Disney movies tend to be the stand-alone among different entertainment trends that just don't die out or get boring. And best of all, Disney films appeal to both young and old — so they're never exactly without an audience.
That being said, perhaps the Mary Poppins sequel will be the spoonful of sugar fans need to make any drawn-out wait times go down. The casting seems promising too: 32-year-old actress Emily Blunt is slated to play Poppins, especially exciting, since Blunt is both British and talented. Composer and actor Lin Manuel-Miranda — best-known for writing and starring in the incredibly popular Broadway musical Hamilton — will play Jack, much to the excitement of just about everyone.
The sequel will take place 20 years after the original left off, according to Variety, which means that Poppins' original charges, the children in the Banks family, will be adults. The original Poppins film, which came out in 1964, was based off the first four of the eventual eight Mary Poppins books, which author P.L. Travers published between 1934 and 1988. The original Mary Poppins film starred icon Julie Andrews in the titular role, for which she won the Academy Award for best actress.
The setting for the sequel will be "Depression-era London," and the plot will focus on "continued adventures with the Banks family." As for the precise timing of the film's release, there's reason to believe that it might be sooner rather than later: Variety noted that since the Mary Poppins sequel is further in the development process than some of the other Disney remakes and sequels, it is likely to be one of the first of the group to be released. However, since Emily Blunt is pregnant with her second child, it's possible that production will be delayed.
Either way, fans shouldn't fret too much. We'll have plenty of other Disney reboots to whet our palates in the meantime.