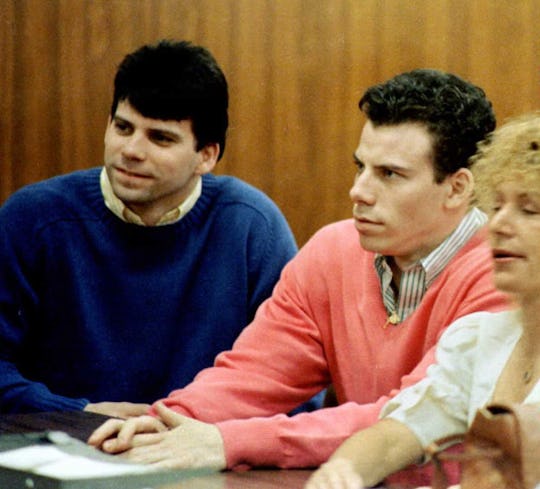 MIKE NELSON/AFP/Getty Images
The Menendez Brothers Were Given A Long Sentence
One of the biggest crime stories of the 20th century is the case of the Menendez brothers. On Aug. 20, 1989, Lyle and Erik Menendez killed their parents with shotguns in their Beverly Hills mansion and then almost got away with it. The story of the two brothers will be retold in the new two-hour ABC documentary, Truth and Lies: The Menendez Brothers, causing many to raise questions about this case once again. The brothers, who committed the crimes when Lyle was only 21 and Erik just 18, have been in prison for the past 27 years now and one has to wonder when will the Menendez brothers get out of jail? Unfortunately for the Menendez brothers, they're never getting out. Both brothers were given separate life sentences in prison.
The two brothers were the sons of entertainment executive Jose Menendez and Mary "Kitty" Menendez, a homemaker and socialite. Jose was shot point-blank in the head, while their mother suffered multiple gunshot wounds, leaving her unrecognizable. Both were shot in the kneecaps, in what authorities believe were the brothers' attempt to make the murders look like a mob hit. Lyle and Erik left their home after the killings to go out to a movie in an attempt to form an alibi, and when they returned home later Lyle called the cops in an infamous phone call, in which he claims "someone" killed his parents.
Although their were suspicions that the brothers were somehow involved in the murders — especially when they both started spending money extravagantly shortly after their parents' deaths — it wasn't until Erik confessed to the murders to his psychologist that the police were able to arrest the brothers. Because Lyle threatened the psychologist, doctor-patient privilege was voided and Erik's confession was used against them. The brothers then attempted to create a defense for the murders by claiming their parents were abusive, though this was never proven to be true. This led to a deadlocked jury and the call for a new trial. But in the end they were found guilty and then sentenced to life in prison.
The brothers have since tried to appeal their convictions multiple times, but have been denied. You can get the full story of the Menendez brothers' case and see what Lyle has to say about the case now by watching Truth and Lies on Jan. 5 at 9 p.m. ET on ABC.