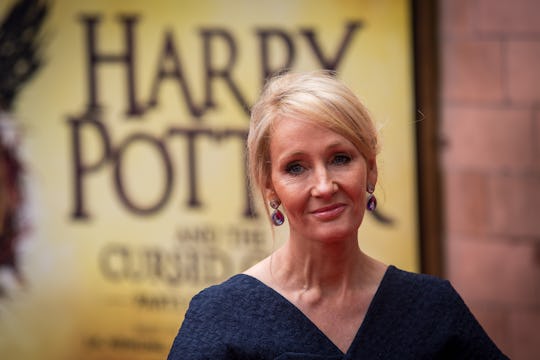 Rob Stothard/Getty Images Entertainment/Getty Images
Here's When The New Harry Potter Books Hit Stores
If you're a Harry Potter fan, you've likely already heard the news (and maybe started hyperventilating): Bloomsbury will be publishing not one, but two new Harry Potter books this year in order to celebrate the magical series' 20-year anniversary. For those who have spent the last two decades reading and re-reading Rowling's work, there's really only one question that needs to be asked regarding the new tomes: When will the new Harry Potter books be released, and how can you get your hands on them?
The two latest books, Harry Potter: A History of Magic – The Book of the Exhibition and Harry Potter – A Journey Through A History of Magic, will both be released on Oct. 20, 2017, according to BuzzFeed. The books can be pre-ordered via the British Library Shop or through Amazon UK, with international delivery available from both outlets. If you pre-order, you can expect the books to be en route to your front door on the day of their publication. (Or, you know, if you're more of a Kindle person, you can expect the digital copies of the books to hit your device on Oct. 20.)
The two books promise to take an in-depth look at Hogwarts and the wider wizarding world. Harry Potter: A History of Magic – The Book of the Exhibition is a collaboration between Rowling, Bloomsbury, and the curators of the British Library, and it promises to take fans on a tour of all the subjects taught at Hogwarts. According to the British Library, the book will give readers a glimpse at "ancient spell books, amazing illuminated scrolls that reveal the secret of the elixir of life, vials of dragon's blood, mandrake roots, painted centaurs and a genuine witch's broomstick."
Once you've made your way through the first book, you'll probably also want to get your hands on Harry Potter - A Journey Through the History of Magic. If you ever wanted to be like Hermione and take a deep dive into the Hogwarts library, this is your chance, since this book will take readers on "a journey through the Hogwarts curriculum, including Herbology, Defence Against the Dark Arts, Astronomy, Divination and more," according to the British Library. It will include unseen sketches and manuscript pages from Rowling herself, as well as writing from the British Library's curating team.
October didn't seem like it was too far away before, but now it legitimately cannot come quick enough. Something also tells me that with these two books coming out in the fall, we might just see a resurgence of Harry Potter-themed costumes this Halloween, too — and that's something I'm all for.