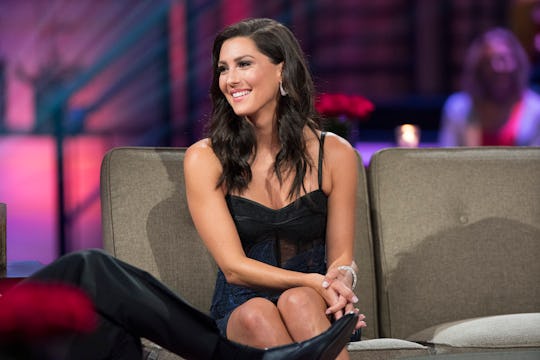 Paul Hebert/ABC
'Bachelor' Nation Is Waiting With Bated Breath For The Next Lead
There are only two weeks left of Becca's Bachelorette season and one question is on Bachelor Nation's mind: who will be the next Bachelor? Actually, there are two questions, the other of which is: when will the next Bachelor be announced? Unfortunately, if ABC does the announcement as they have in the past (and there's no indication they'll be doing anything differently), fans have to wait for some time.
Last year, Rachel Lindsay's Bachelorette season ended in August and Arie was announced as Bachelor in September. Becca's season is indeed ending early August so, following that pattern, the announcement will probably be the following month. ABC hasn't said for certain when it will be, though.
I know what fans are wondering why it takes so long. The Bachelorette is announced on The Bachelor's After the Final Rose special so why can't it be the same with this? Well, for one, fans won't be totally left Bachelor-less, as Paradise begins the day after Bachelorette ends. While it's not likely, it is possible the next Bachelor will be on Paradise. Just look at Nick Viall, who was announced as Season 21's Bachelor after a stint on Paradise (and two seasons of Bachelorette). Furthermore, there is more room between Bachelorette and Bachelor than vice versa. The Bachelor begins in January and ends in March, while The Bachelorette begins in May and ends in August. This means there's only a two-month gap between the The Bachelor and The Bachelorette, but a five-month gap until the next cycle.
Now, back to the first Bachelor question on everyone's mind. Who will it be? I believe the forerunner for Bachelor at this point is Jason, who came in third place. Ahh, Jason, the Joey Donner lookalike of my dreams. He had a tearful goodbye with Becca and while he initially made the no-no move of coming back after he was eliminated, it ended well. They both received closure, and Jason had a chance to give Becca a scrapbook he made of their memories together. Who doesn't want that from an amicable breakup?
As the second runner-up, I'm sure that producers are considering Jason for next season's lead — and he's expressed interest, as well. Jason said he is open to being The Bachelor. He told People that he is "very single" and learned a lot about love from the show. "Now, I'm able to start leading with my heart and not my head. And I'm in the best position to find who I'm looking for now," Jason told People. Even Becca gave her stamp of approval for Jason for Bachelor. She told Ashley Iaconetti during an Access interview that she has a soft spot for Jason — and don't we all.
Fans are clamoring for Jason to be Bachelor, but there are a ton of options, really. The next Bachelor has been rumored to be anyone from Colton to Wills to someone from a completely different season like Peter Kraus, last year's runner-up. And, of course whoever Becca's runner-up is — either Blake or Garrett — will also be considered (well, maybe not Garrett after the whole Instagram controversy). Bachelor Nation will simply have to sit tight before the next lead is finally revealed. September will be here soon enough. In the meantime, there's Bachelor in Paradise to watch — and of course, all of the men's social media accounts for any possible hints.