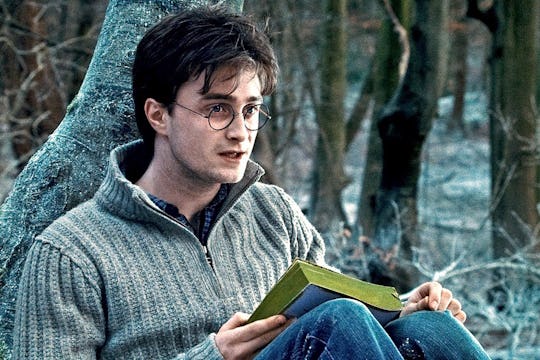 Warner Bros.
When Will The Next 'Harry Potter' Book Come Out? There Has To Be One First
The day has come, my fellow Potter fans. After going almost 10 years without any new stories from the wizarding world, Harry, Ron, Hermione, and more are back in Harry Potter and The Cursed Child. As of 12:01 a.m. on July 31, the eighth Harry Potter book is available for fans all over the world to read. And, if you consider yourself a serious fan of the franchise, you will likely finish the book by 12:01 a.m. on August 1 and need more Harry Potter ASAP. You may even find yourself googling "when will the next Harry Potter book come out?" in order to properly prepare.
Unfortunately, if you're one of the many hoping that the Hogwarts saga will continue, you may be out of luck. As of now, there is no word that a ninth Harry Potter book will be released, let alone when that magical book will hit shelves. In fact, if you want to get technical, Harry Potter and The Cursed Child isn't even a Harry Potter "book." According to a tweet from J.K. Rowling herself, Harry Potter and The Cursed Child is not another novel in the Harry Potter series. Rather, it is the script of a play that is being staged in London as of June 30.
But lets be real here — fans don't give a flying snitch whether it's a novel, a script, or a series of tweets. All that matters is that there is more Harry Potter to read and more magic to soak up along the way.
The story picks up right where Harry Potter and the Deathly Hallows left off — at King's Cross Station where Harry and his family are awaiting the arrival of the Hogwarts Express. While waiting to board, Harry's youngest son Albus expresses concern over starting at school and — God forbid — being sorted in Slytherin. Harry tries to assure him that it doesn't matter what house he is placed in. After all, his middle namesake, Severus Snape, donned the silver and green robes during his time at Hogwarts. But that doesn't seem to ease the young Potter's fears and he boards the train, nervous about what awaits him at the end of the line.
Harry Potter and The Cursed child is field with new adventures, old characters, and all sorts of good feelings. And it ends in a way that wraps up the series, but allows room for another "book" should Rowling be so kind as to write one for the fans. All fans can do is pray to the Harry Potter powers that be and wave their wands in hopes of more wizarding adventures.