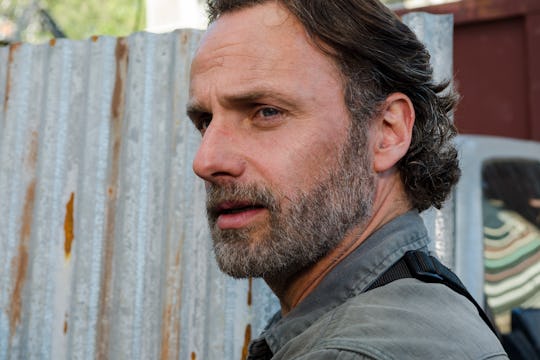 Gene Page/AMC
'The Walking Dead' Season 8 Will Be On Netflix Before You Know It
The Season 8 finale of The Walking Dead promises to bring an end to the war Negan has waged for several seasons when it airs on April 15. It's been a season full of slow-moving storylines, unexpected deaths, and shifting alliances. If you plan to watch it all again in marathon form (or if you missed it and need to catch up before Season 9), then you may be wondering when The Walking Dead Season 8 will be on Netflix.
Its Netflix release date hasn't been publicly revealed yet, but it shouldn't be too hard to deduce from past seasons. It generally seems to take a few months for a season to make the jump the streaming platform after finishing, and it usually happens not too long before the new season debuts. For example, Season 7 of The Walking Dead aired its finale in April 2017 and it was on Netflix by early September; Season 8 premiered almost two months later on October 22. If they follow the same pattern, then Season 8 should be on Netflix in the fall before Season 9 begins.
The Walking Dead often premieres in late October and ends in April, so if it appears on Netflix in September it will give viewers plenty of time to work through all the episodes.
But that's all speculation, because there haven't been any official announcements or confirmations when it comes to the show's Netflix status. If you simply can't wait until September to watch, then you can always pay for the show on Amazon or iTunes; if you have a cable provider, then you can find the episodes on AMC's website, where you can watch as soon as you sign in. According to Decider, interested parties can also stream AMC through Sling TV, DirecTV Now, YouTube TV, or Playstation Vue. Those are all the current available streaming platforms for The Walking Dead; it can't be found on Hulu.
Though Season 8 has brought the show its lowest ratings since the first season, it was also one of the most controversial. Negan has been a polarizing figure since his introduction, and that's remained true for the length of his time on the show. Many will be curious to see if finally meets his demise some time in the future, though the comics indicate that he'll be here for the long haul. But perhaps the biggest issue people had with the eighth season was the death that occurred in its mid-season premiere.
Most of the viewing audience was under the impression that Carl's place in the show was as secure as Rick's; though he might get into dangerous situations, he would always find a way to survive. Carl represented the future, and gave the characters hope that the world would improve despite its dire conditions. Fans had also watched actor Chandler Riggs grow up before their eyes, which endeared Carl to them even more. The decision to kill Carl off after he received a fatal zombie bite was one that met with a lot of pushback from viewers who didn't want to see Carl go, especially after losing so many beloved characters over the years.
Maybe giving the season a second look once it's available on Netflix will help fans discover some details they might have overlooked the first time. Rewatching could make the tough moments a little easier to come to terms with too, especially once you've found out how it all tied up in the finale. Most importantly, Season 8 will set you up for Season 9, so at the very least you should be able to see it again before the new season begins.
Check out Romper's new video series, Romper's Doula Diaries:
Watch full episodes of Romper's Doula Diaries on Facebook Watch.