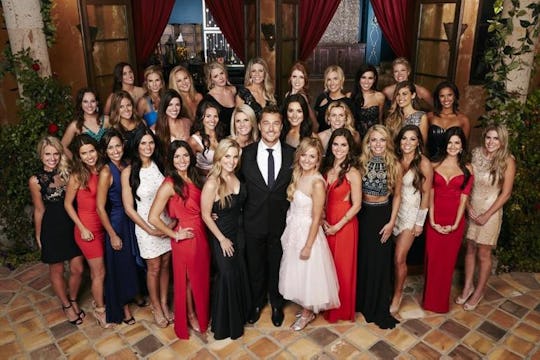 When Will There Be A Black 'Bachelorette'? We Could See A More Diverse 'Bachelorette' Quite Soon
See the photo above? What does everyone have in common in the image? Well, besides a taste for gowns that you could find only at the Chico's of the world, every single person in this picture — including then-Bachelor Chris Souler — is very, very white. But, it seems, things could change soon when it comes to the popular ABC series. Because, according to ABC's entertainment president, a black Bachelor or Bachelorette might come soon.
Of course, actions speak louder than words, and, as of right now, we only have words. But according to Paul Lee, who serves as the network's Entertainment Chief, during ABC's press tour Saturday, there are a lot of "tweaks" on their way for the long-running reality show. Said Lee:
We had a Latino Bachelor, obviously. We're doing a whole lot of tweaks. We have The Farm Team, right? Which allows us to pick the next one. But I'd be very surprised if The Bachelorette in the summer wasn't diverse. Perhaps I shouldn't have said that, but I think that's likely to happen. I think the tweaks that Mike Fleiss have put in place will get us where we want to go.
(The Latino Bachelor, of course, being the dude every Bachelor fan loved to hate, Juan Pablo Galavis. And he was the only non-white contestant in 21 whole years of the show.)
So, it's not a definite. And saying The Bachelorette will be diverse doesn't necessarily mean that THE Bachelorette will be diverse — Lee could just be referring to the crop of contestants vying for The Bachelorette's love. But it's easy to dream — could the next Bachelorette be this season's Amber, Jami, or Jubilee, all who have made good impressions on Ben Higgins' season thus far?
Particularly after UnReal, the drama inspired by The Bachelor, is featuring a black bachelor during its second season, and after the real Bachelor has struggled with criticism on this very issue for a long time. Back in 2012, in fact, the series was sued by two possible contestants for racial discrimination, claiming the network feared showcasing interracial relationships. (The case was eventually dismissed after a judge ruled in favor of The Bachelor's first amendment rights, something the network established as a defense early on.) But, as The Washington Post reported, the series did see an increase of minority contestants following the lawsuit.
Here's hoping, at least, that the photo for the upcoming season of The Bachelorette features a sea of colors that aren't dedicated just to the shade of dress contestants are wearing.
Image: ABC