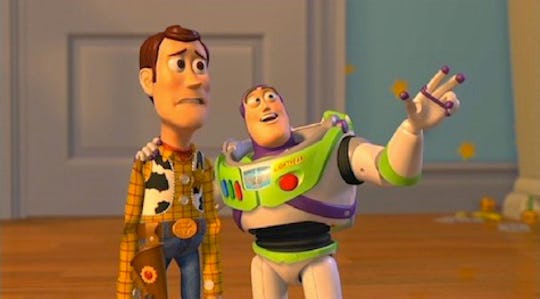 When Will 'Toy Story 4' Be Released? Get Ready For A Longer Wait Than Expected, Pixar Fans...
So your enthusiasm is about to go to infinity... and beyond. Why? Well, because we just got confirmation that Toy Story 4 is indeed happening, and is indeed in production. And, on top of all that, we got a release date as well. So when will Toy Story 4 hit theaters? Well, let's just say young Andy will be enjoying far more than just his diploma.
Because the release date comes a whopping eight years after the conclusion of Toy Story 3. Though early reports indicated that we would see a Toy Story 4 in 2017, Tom Hanks revealed on The Graham Norton Show that we would have to wait until — wait for it — 2018 to see the new film. Said Hanks on the show:
We're now recording Toy Story 4 ... So we're doing that and it will be out in 2018, so it takes a long time …We are working on it right now. I have a recording session on the second of December.
The logical follow-up question? Who is "we"? According to Hollywood Life, Hanks as well as Tim Allen (Buzz Lightyear, duh), Joan Cusack (Jessie), and Bonnie Hunt (Dolly) are all expected to return for the fourth installment. And, of course, a new Toy Story is expected to come with heavy-hitters, like Patricia Arquette, who is in talks to join as a hippie mom.
As for what part in Woody and Buzz's life that hippie mom will play? It's unclear — as is the rest of Toy Story 4's plot. (Though some speculate that the plot will center on Bonnie, the little girl who adopted Andy's former crew at the end of Toy Story 3, while director John Lasseter has said it will focus on Woody's love life with Bo Peep.) That said, if director John Lasseter is to be believed, we're in for one helluva ride come 2018. As he said via a press release in 2014:
We love these characters so much; they are like family to us. We don't want to do anything with them unless it lives up to or surpasses what's gone before. Toy Story 3 ended Woody and Buzz's story with Andy so perfectly that for a long time, we never even talked about doing another Toy Story movie. But when Andrew Stanton, Pete Docter, Lee Unkrich and I came up with this new idea, I just could not stop thinking about it. It was so exciting to me, I knew we had to make this movie — and I wanted to direct it myself.
If only Buzz Lightyear can make time move in lightening speed.
Image: Pixar