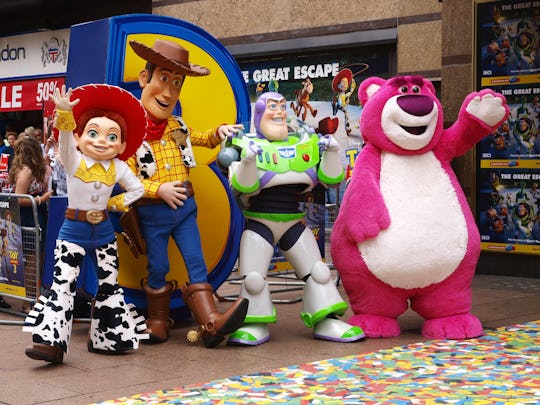 MAX NASH/AFP/Getty Images
When Will 'Toy Story 4' Come Out? Here's What We Know
It's official: we're getting another Toy Story movie. The award-winning, family favorite franchise by Pixar Animation Studies is producing a fourth film. When will Toy Story 4 come out? You'll have to wait a couple of years, but it will be worth it.
Pixar announced Wednesday that Toy Story 4 will be released in theaters June 21, 2019, a perfect release date since kids will just be starting their summer vacations. The fourth installment in the series will come 24 years after the first Toy Story movie, which was released in 1995. Parents taking their kids to the theater to see Toy Story 4 were probably tots themselves when the first movie came out, and many of them grew up with the franchise.
The fourth film is coming to life under the guiding eye of the original team, and will be co-written by Rashida Jones (Parks and Recreation) and Will McCormack.
Toy Story 2 (1999) and Toy Story 3 (2010), were as critically acclaimed as the first, though the original Toy Story has the distinction of being the first film ever to be made using exclusively computer animated imagery. Now it's commonplace for movies to be made with all kinds of special effects generated by computers, but in the early 1990s Toy Story was unlike anything ever seen before. It grossed more than $361 million dollars worldwide.
It also featured the voice acting talents of favorites like Tom Hanks, Tim Allen, Don Rickles, and Laurie Metcalf. The films spawned video games, toys, clothing, and other merchandise that remains a popular fixture in many kids' bedrooms today. The characters have become a staple in the childhoods of many, and now they're sharing the magic with their kids. Director John Lasseter feels the same, according to Oh My Disney:
We love these characters so much; they are like family to us. We don't want to do anything with them unless it lives up to or surpasses what's gone before. Toy Story 3 ended Woody and Buzz's story with Andy so perfectly that for a long time, we never even talked about doing another Toy Story movie. But when Andrew, Pete, Lee and I came up with this new idea, I just could not stop thinking about it. It was so exciting to me, I knew we had to make this movie—and I wanted to direct it myself.
The cast for the fourth film will feature many of the original voices, including Hanks and Allen reprising their famous roles and the return of Joan Cusack, Laurie Metcalf, Jodi Benson, Bonnie Hunt, and Don Rickles. The fourth installment will also welcome back Annie Potts as Bo Peep, who the characters will be searching for, according to the IMDb page description for the film.