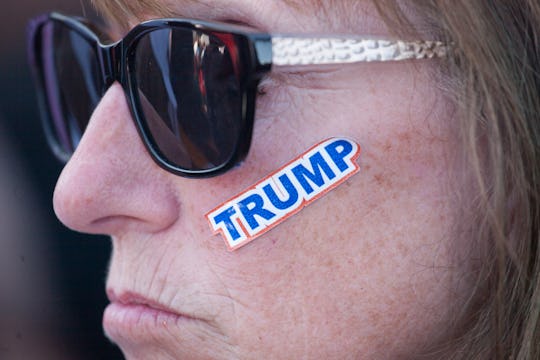 Matt Mills McKnight/Getty Images News/Getty Images
When Will Trump Choose His Running Mate? It Won't Be Easy
Now that the primary season is coming to close and real estate mogul Donald Trump is looking like the presumptive nominee for the Republican nominee for president, it's time to start considering who Trump will pick to be a running mate — or perhaps, more importantly at this point, when Trump will choose a running mate. And as of right now, no one's quite sure who will (or would be willing to) join the frontrunner on the Republican ticket or whether Trump himself has a timetable. At this point, it's anyone's guess.
Roger Stone, a Trump insider, told Bloomberg News this week that there were a good number of names up for the position. "He will interview everyone who's a serious contender," Stone said. "That's why the choice will be outside the box. I think it'll be daring."
That doesn't mean that some of Trump's former opponents are out the picture. New Jersey Gov. Chris Christie or even Ohio Gov. John Kasich are apparently still in the running for vice president, even if they don't know it yet, according to Trump's advisors. According to Trump's campaign manager, Corey Lewandowski, officials are vetting candidates that can complement Trump's business acumen. In some ways, the campaign seems to picking a vice president the same way that Sean Combs (the legendary Puff Daddy himself) would pick a pop group. Who can dance next to Trump' vocals?
Trump himself chimed in by saying that he has "list of people that [he] would like" seriously considered. That being said, the hardest part for Trump's campaign right now is about finding anyone, anyone at all, to stand next to him as a running mate. Picking one before or during the convention is a hard choice.
The fact that Trump has taken the Republican field by storm isn't helping his search for vice president. Since he is running as an "outsider," Trump told the Associated Press that he wants a vice president who can "help him pass legislation as president." But many Republicans have distanced themselves from the candidate while remaining loyal to the party, which Trump seems to be fighting against.
Florida Sen. Marco Rubio, for example, took a few punches from Trump before dropping out the presidential race. He told CNN this week that he plans to vote for Trump in the name of party solidarity, but "little Marco" probably won't be running with Trump this year, thanks in part to all the bad blood between them.
Rubio's situation pretty much sums up Trump's running mate search. Although there are many Republicans who would like to help him "bring the party together," Trump's policies are so varied that it's hard for any Republican to get behind him. Likewise, conservatives who might have voted for Cruz are also wary about lining up with him.
When it comes to a general election, Trump's going to (maybe) need someone to balance some of his extreme views. And soon. Whenever that happens, if it ever does, is still up in the air.