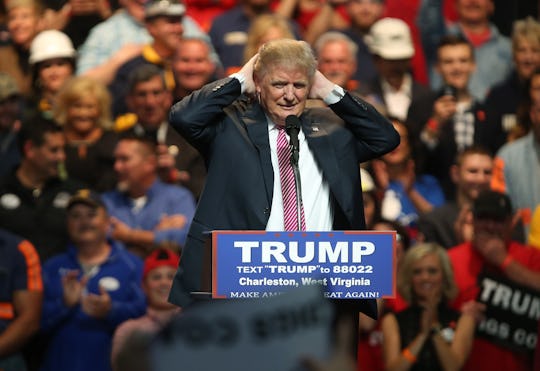 Mark Lyons/Getty Images News/Getty Images
When Will Trump Choose His Vice President? He's Already Announced A Date
Hotel mogul Donald Trump has become the presumptive Republican nominee, which means he should probably scoop up a running mate sometime soon as voters begin to look towards the general election. When will Trump choose his vice president, and who will he pick? Rumors have swirled ever since he stepped into the race, and they've picked up pace lately: Will he pick Carly Fiorina to try and win over the female voters he's alienated? Will he choose someone like John Kasich in order to repair ties with the Republican party? Or will he go for someone like former Arizona Gov. Jan Brewer, whose immigration policies match his?
As it turns out, we can hypothesize all we'd like, but Trump has already set a date for his running mate announcement. According to the Associated Press, Trump doesn't plan on announcing a vice president until the Republican National Convention this summer, which will take place in Cleveland, Ohio, from July 18 to 21. It sounds like he wants it to be a big affair. As he told the AP:
The concept of some entertainment from a great singer, a great group I think would be something maybe to break things up. You'll be hearing plenty of political speeches.
The Republican National Convention is also where things may get interesting for whomever Trump chooses as a vice president. The vote for vice president is held separately from the presidential nominee vote, and no delegates are obligated to vote for Trump's choice. In fact, since many Republicans seem slightly suspicious of Trump's Republican stance, they'll likely be waiting to see if he chooses a vice president that has a long political standing with the party. If not, they'll be able to vote down Trump's pick.
That said, it would be in Trump's best interests to pick a vice president who would reassure Republicans. He told the Associated Press that part of his general election planning includes picking a running mate with a wealth of political experience. Trump's campaign manager, Corey Lewandowsi, is running the search for a vice president, along with Trump himself and retired neurosurgeon Ben Carson. Trump said he had narrowed the list down to "five or six" possible running mates, but didn't hint at who they might be, according to the AP.
It sounds like the public — and the Republican party — will have to wait until the Republican National Convention to see who is teaming up with Trump. If you don't like his choice, don't worry: there will be a great singer or some great entertainment to take your mind off of it.