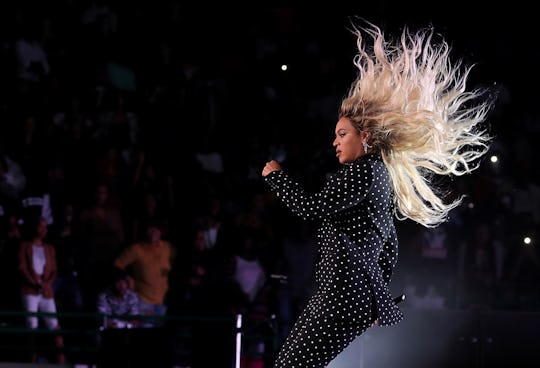 Justin Sullivan/Getty Images News/Getty Images
Will We *Ever* Find Out Beyoncé's Twins Names?
The world was forever changed when news broke two weeks ago that America's own Queen, Beyoncé, reportedly gave birth to her second and third children. Of course, neither Bey nor her husband, JAY-Z have officially announced the birth of their new babies, but that doesn't mean the internet is any less intrusive on the matter. Speaking of which, when will we find out Beyoncé's twins' names? It's honestly been way too long and the public deserves to know. Like, come on, Carters. You owe us.
Okay, relax, that was sarcasm, friends. In reality, the famous couple doesn't owe anyone anything. Of course, celebrities definitely seem to own a debt of some sort for all the clout they receive on the daily, but that seems to even out when you consider how mercilessly they're stalked by the paparazzi (gross). The rest of the public could at least let them have their space after they've just added two new members to the family, right? Doesn't Bey deserve some down time and rest after delivering two actual humans? Maybe?
Obviously, fans want to know Bey is okay, and that the twins are happy and healthy. But, if the reports about the twins staying in the hospital longer than anticipated due to a "minor issue" are to be believed, then the Carter family has the right to stay on the down low, now more than ever.
Historically speaking, it's also important to remember that Bey and JAY-Z waited a full month before sharing photos and more information about Blue Ivy back in 2012. Relatively speaking, it's only been about two weeks since Beyoncé reportedly gave birth. Really, fans shouldn't be expecting any news anytime soon. And that's perfectly OK, no matter what anyone thinks they're owed as a fan.
Queen Bey has already blessed the universe enough with her emotionally-charged albums, hit singles, flawless dance moves, angelic vocals, and powerful lyrics. If she never wants to share what she named the twins, that would be completely fine, too (I think the Beyhive would probably be cool with giving them some nicknames, like Blessed Human 1 and Blessed Human 2). Giving birth, as many mothers know to be true, isn't an easy task. And being a mom doesn't simply happen. Families need time to bond, and to learn, and to grow together.
As perfect as Bey is (or at least as perfect as fans perceive her to be), she could use some time to herself to get to know her two new little ones. So, whenever she decides to disclose the twins' names, that's fine with us.