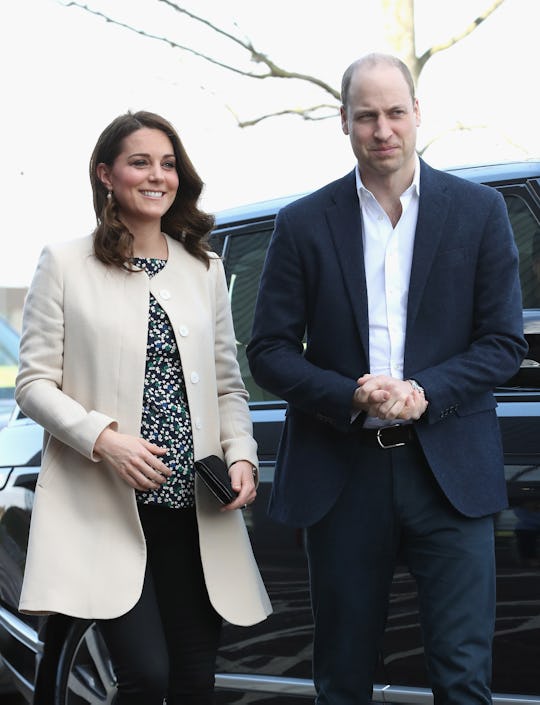 Chris Jackson/Getty Images Entertainment/Getty Images
Here's Why We'll Have To Wait To Find Out The New Royal Baby's Name
Kate Middleton, The Duchess of Cambridge, has delivered her third child with Prince William and the world is anxiously awaiting the release of more details. While Kensington Palace has announced the birth and shared a few, one key piece of information is still unknown about the little prince. You may be wondering when we will find out the royal baby's name. I hate to be the bearer of bad news, but it could be a little while before that tidbit is released.
Update: Kensington Palace announced royal baby no. 3's name on Friday afternoon local time. In a tweet, the Palace said he is Louis Arthur Charles and will be known as His Royal Highness Prince Louis of Cambridge.
Previously: Kensington Palace announced the arrival of the newest royal baby early Monday morning via its official Twitter account. Per the announcement, the baby was born at 11:01 GMT. His birth weight was 8 pounds, 7 ounces and proud dad, Prince William, was present for his birth. The account also stated that Middleton and the baby are doing well, but, alas, no baby name was revealed.
Town & Country reported that it is tradition for the royal family to hold off for a little before sharing their children's names with the public. Royal commentator Victoria Arbiter told the magazine via email that there are a couple of reasons why they wait. "On one hand there's a desire to inform the families before a public declaration is made and any new parent appreciates having a little private time to get to know their new addition before the onslaught of announcements," she said.
But royal parents also have a lot of pressure on them to choose the right name, so Arbiter said that she thinks they "want to be a hundred percent certain of their choice before announcing the name and sealing the baby's place in history."
Fortunately, tradition doesn't call for a particularly long period of silence between birth and baby name announcements. Middleton and Prince William shared both Prince George and Princess Charlotte's names within a couple of days of their births, so the announcement for the new baby's name could come as early as Wednesday.
As for how the information will be shared, like the rest of the news associated with the new baby, it will most likely come via the official Kensington Palace Twitter account. In 2015, Kensington Palace was the first to share Princess Charlotte's name. Prince George was born before the account was in place, so the Clarence House account announced his name to the world.
While the baby's actual name has yet to be announced, bookies in the U.K. have a few guesses that are gaining popularity by the minute. It is believed that the Duke and Duchess will opt for another traditional royal family name, as they did with George and Charlotte, according to The Sun. The names Arthur, Albert, and Philip are currently the favorites now that it has been announced that the royal baby is a boy. Prince George, whose full name is George Louis Alexander, is named after six former kings, along with Lord Louis Mountbatten, the last Viceroy of India, according to The Sun. Princess Charlotte, whose full name is Charlotte Elizabeth Diana, is named after William's late mother and living grandmother, the Queen.
Royal commentator Richard Fitzwilliams told the BBC that the name very well may come from the family tree. "Family links are tremendously important in this," he said. "You want a name that resonates, a name that's got family links and is popular," adding that Albert was a possible name choice. There's a specific time period that he believes the name may be pulled from, he told the BBC:
There has been a renewal of interest in the Victorian era. After the success of Victoria on the small screen, there's more popular interest in these royals and it's a chance to pay tribute to one of the great royal romances.
But while it is tradition to choose from the existing family names, there is no hard and fast rule that says Prince William and Middleton can't choose whatever name tickles their fancy. Fans and followers will just have to wait until the couple feels comfortable sharing their chosen name with the public.
Check out Romper's new video series, Bearing The Motherload, where disagreeing parents from different sides of an issue sit down with a mediator and talk about how to support (and not judge) each other's parenting perspectives. New episodes air Mondays on Facebook.