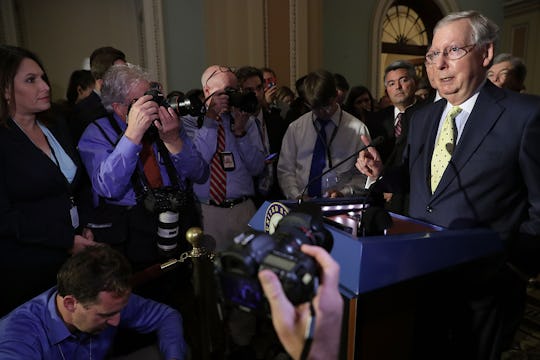 Chip Somodevilla/Getty Images News/Getty Images
We Can Finally Read The New Health Care Bill
After weeks of closed-door meetings between Senate Majority Leader Mitch McConnell and 12 of his buddies, they've finally ready to share the new and supposedly improved AHCA with the rest of Senate Republicans. But when will we see the new health care bill? According to the Washington Post, the Republicans were briefed first, at 9:30 Thursday morning, before the plan was revealed to the rest of Senate, and then posted online for the public.
McConnell claims that all 52 Republicans had a hand in drafting the new legislation, but Time has reported that McConnell assembled an elite squad of a dozen middle-aged to elderly white men to tinker with the bill that passed the House in May. Utah Sen. Mike Lee is on Time's list, but he claimed he hadn't even seen the bill. "It's not being written by us," Lee said in a Facebook live video on Monday. "It's apparently being written by a small handful of staffers for members of the Republican leadership in the Senate." When Bloomberg asked Arizona Sen. John McCain if he'd seen the bill on Monday, the Senator quipped, "No, nor have I met any American that has. I'm sure the Russians have been able to hack in and gotten most of it."
McCain has long been critical of the process, and according to another Time article, he's likened it to the Democrats' passage of the Affordable Care Act. But in reality, the ACA saw hundreds of changes over months hearings, and Democrats attempted, albeit unsuccessfully, to get Republicans involved. The closed doors and short voting windows are a new tactic, and Senate Democrats are understandably even more frustrated than their GOP colleagues. Vermont Sen. Bernie Sanders has called it an "embarrassing, disastrous process and an embarrassing, disastrous bill," CNN has reported, and New York Sen. Chuck Schumer postulated, "They're ashamed of it, plain and simple," according to Raw Story.
Now the "Better Care Reconciliation Act of 2017" is finally out, so we can see just what it is that Republicans are ashamed of. Could it be the tax penalties for people who choose health insurance that covers abortion? Or how it eliminates a law requiring carriers to cover essential health services like mental health, maternity, pediatric, and maternity care? You can read the whole thing to find out, but be forewarned; it's 142 pages of complicated and confusing language. This is no summer beach read.