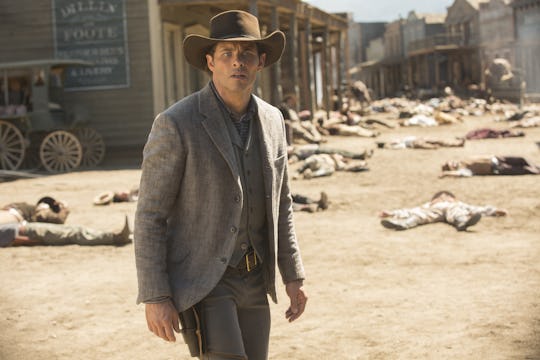 John P. Johnson/HBO
When Will 'Westworld' Season 2 Premiere? It'll Be A Long Wait
The first season of Westworld is quickly coming to an end and it's been a wild ride. There's been murder, multiple plot twists, questions about the timeline, and so much more. Just when fans think they have the show figured out, Westworld throws something new at them. With the first season on it's way out, fans are already wondering when Westworld Season 2 will premiere. Unfortunately, it'll be a while before fans know what happens next in the world of hosts.
HBO's programming president Casey Bloys told Entertainment Weekly that the show probably won't return until 2018 because of "how big the world is and what goes into shooting it." Fans of HBO's other epic TV series, Game of Thrones, are used to the long wait that occurs between seasons, but typically the wait is one year, not two. However, Westworld did air in the fall, unlike Game of Thrones, which airs in the spring. It's possible that Westworld may switch gears in 2018 and air earlier in the year depending on the scheduling — especially since the final season of Game of Thrones will most likely air that year as well. Still, 2018 is a long time to wait and depending on what happens in the season finale of Westworld, fans may go out of their minds waiting for Season 2.
The season finale of Westworld will air on Sunday night and the show has left fans with multiple questions leading up to the closing episode. It's now been revealed that not only is Bernard a host, but he is also the host version of Ford's late partner, Arnold. In the mist of Bernard's flashbacks, it was also indicated that he killed Elsie. Although until I see a body I'm still holding out hope that Bernard somehow resisted killing her and only made her unconscious, then proceeded to hide her somewhere. Dolores also discovered that she killed Arnold, but was this because she went crazy or did Arnold actually commit suicide by ordering Dolores to kill him? Or did Ford order Dolores to kill Arnold the way he ordered Bernard to kill Theresa?
The biggest question most fans still want answered is who really is the Man in Black? At this point almost everyone believes the two timelines theory and that the Man in Black is actually an older version of William. With each passing week this theory does seem more and more plausible, but the show hasn't actually confirmed it the way it did with the Bernard host theory. Will the two timelines theory finally be confirmed in the finale? And what kind of cliffhanger will it set up for Season 2? Fans will just have to tune in on Sunday and see.